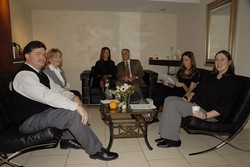 Mount Kisco, NY (PRWEB) February 1, 2008
Some 20-plus top tier beauty media were treated to a spa pedicure and foot-care goodies when Robin Leedy & Associates (RL&A), an independent, award-winning boutique New York health and lifestyle PR agency, recently hosted the Microplane® Personal Care media briefing and launch event at the luxurious Townhouse Spa in NYC. Microplane®, which made a name for itself in the housewares industry, is looking to do the same in personal care with its unique Foot Files and Buffers, which are safe and effective to remove dry skin and calluses from the feet.
The all-day event was well attended by editors from leading women's and men's consumer magazines, including Men's Vogue, New York Magazine, Good Housekeeping, Us Weekly, Women's Health, Self, Maxim, Ladies Home Journal, Women's Wear Daily, Parents, Conde Nast Traveler, CosmoGirl!, All You, Family Circle, Teen Vogue, Health, Allure and Redbook, among others.
Beauty Product PR
Editors had one-on-one Microplane® product briefings with Philadelphia Eagles podiatrist Lee Cohen and celebrity pedicurist Gina Eppolito(most recently credited in this month's issue of Allure magazine for doing Sarah Jessica Parker's pedicure for her photo shoot), who are representing the brand throughout the year-long public relations campaign. Each editor also had a personal experience with the Microplane® Foot File XL- Pro and new Microplane® Foot Buffer during their spa pedicures.
Initial feedback from the editors indicates this Robin Leedy & Associates media event was a "toe-tal" success!
For more information on how to get media exposure for your OTC and beauty products or women's health products or services, contact Robin Russo, president.
###