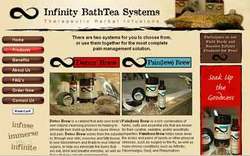 Much more than cosmetic bath products, which consist mainly of fragrance and dye
New Braunfels, TX (PRWEB) February 4, 2008
Infinity BathTea Products, Inc., a company creating a synergistic line of therapeutic herbal infusions, announces a new therapeutic bath product line. The new Infinity BathTea Systems are the Pain(less) Brew and the Detox Brew, each a proprietary bath salt formula which uses herbal hydrotherapy to help people alleviate pain and the toxins that cause it.
A BathTea is a proprietary bath salt formula, developed by Infinity, that is so full of herbs as to necessitate the use of a tea bag. The Detox Brew is a catalyst that aids the body's natural cleansing process by helping to eliminate toxic build-up that can cause illness and pain. Working from the outside in, through the skin, muscles, and fatty tissue to the bloodstream and finally to the internal organs, the Detox Brew fights toxins that people eat, drink, and absorb environmentally everyday.
Pain(less) Brew is a rich combination of herbs, salts and essential oils known for their curative, sedative, and anesthetic properties. This proprietary blend of bath salts, herbs and oils helps ease the aches and pains of sports and other physical activities, physical stresses like surgery or the flu, and chronic conditions that include Arthritis, Fibromyalgia, and Rheumatism.
"Much more than cosmetic bath products, which consist mainly of fragrance and dye," said Shannon Couch, founder of Infinity BathTea, "Infinity BathTeas are homeopathic formulas that work best by infusion for pain relief of chronic conditions such as Fibromyalgia and Arthritis." The products are designed to maximize absorption through the largest organ in the human body, the skin. "You literally 'soak up the goodness.'"
Infinity only offers these products online. The products are made to order, so that customers receive the freshest possible mixtures. Because of this, and the unique mixture of approach and ingredients, the Infinity bath product line is the first and only product of its kind on the market today.
Barbara says of the new Pain(less) Brew, "My knees would hardly hold me up, the pain was so great. I used your BathTea Pain(less) Brew just the way you recommended and I was able to sleep with no pain. I decided to use it the next day and again I got a good night's rest and I've used it every night since. It is wonderful and I would recommend it to anyone in pain; it sure has helped me."
For more information about Infinity BathTeas, visit InfinityBathTea.com.
About Infinity BathTea Products, Inc.:
The Infinity BathTea System came about as a result of health issues suffered by the founder, Shannon Couch. After a several painful surgeries and years of suffering from the symptoms of Fibromyalgia, she used herbal knowledge gained over a decade to create a transdermal application using medicinal herbal teas. Successful in relieving her pain and her symptoms, she now offers these formulas through her company, Infinity BathTea Products, Inc.
###