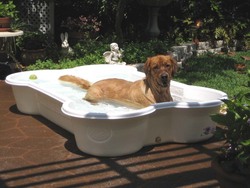 Las Vegas, NV (PRWEB) February 5, 2008
At One Dog One Bone our mission is to develop High Quality Innovative Dog Products.
The Bone Pool™ and Paw pool ™are the first play pools designed for dogs. Made with Heavy Duty hmwpe, the same material that truck bed liners are made with, allow the pools to withstand the toughest and biggest dogs out there. The material is chew resistant and has a special additive, which makes them UV resistant.
With Dimensions of 11"x44"x66", the Bone Pool is great for all size dogs. The installation of a Brass garden hose thread drain makes the Bone Pool easy to drain and clean. The Paw Pool (Patent Pending) measures 6''x38''x39'' and is designed for smaller breed dogs. In order to keep the water temperature as low as possible in the summertime, we made them white so they would absorb less light from the sun and this keeps them cooler. We conducted a side-by-side test using a black pool and a white pool. The water in the white pool stays an average of 10º F cooler.
Made in the U.S.A under U.S. Patent Number D541427, the Bone Pool is well on its way to becoming a necessary staple in the fabric of the American dogs life. Proof of this is our recent "Readers Favorite" Pinnacle Award for 2006 in Pet Age Magazine. With Pools at Pet resorts and Kennels all across the U.S. and Canada, It's just a matter of time before every dog has their own Bone or Paw Pool in their Back Yard.
###