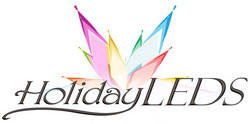 Our rope light is available in bulk lengths of up to 300' or shorter pre-cut lengths but all of it can be cut by the consumer in 3 foot increments
Jackson, MI (PRWEB) February 2, 2008
HolidayLEDs.com, an e-commerce company specializing in energy-efficient decorative lighting, is now offering a full line of LED rope light. The highly efficient rope light consumes 80-90% less energy than standard incandescent alternatives and is rated to last for more than 50,000 hours.
"This year was really the first year a significant number of consumers learned about the benefits of LED lighting," said Michael J. O'Connor, Vice President of Marketing for HolidayLEDs.com. "There are so many applications for this super-efficient lighting and rope light is another great product." LED rope light is similar to incandescent rope light which consists of a series of small lamps covered in a clear, round, flexible plastic. Rope light is typically sold in bulk lengths and used for a number of applications including, building outlines, decks, stairways, patios, and recessed coved lighting. The new LED rope lighting replaces the inefficient incandescent lamps with long-lasting and efficient LEDs while retaining many of the benefits of the rope light design.
"It's really a versatile decorative lighting product." O'Connor added. "Our rope light is available in bulk lengths of up to 300' or shorter pre-cut lengths but all of it can be cut by the consumer in 3 foot increments," O'Connor explained. LED rope is completely weather-proof and can help home owners, restaurant owners, and other business owners easily add some attractive decorative or accent lighting to their home or business at a reasonable cost.
To learn more about LED rope light visit HolidayLEDs.com's website at http://www.holidayleds.com.
###