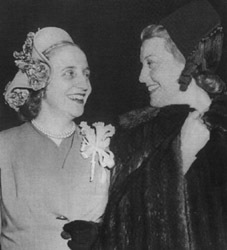 Margaret, by the way, is a very charming girl - plain and sincere.
New York, NY (PRWEB) February 1, 2008
Margaret Truman Daniel, the only child of President Harry S. Truman, has died at age 83.
Like many young girls of her generation who hoped to be singers, Margaret Truman idolized movie stars Jeanette MacDonald and Nelson Eddy. MacDonald and Eddy, stars of blockbuster MGM musicals such as "Naughty Marietta" (1935), "Rose Marie" (1936) and "Maytime" (1937) were favorites of President Roosevelt. When Harry S. Truman became President, both singers continued as welcomed guests at the White House. In 1947, at age 23, Truman made her singing debut with the Detroit Symphony Orchestra but critics weren't impressed. Margaret Truman was thrilled when MacDonald offered her career advice and also attended her 25th birthday party on February 17, 1948. Several weeks later Nelson Eddy, who was on a concert tour, had a private dinner with the Trumans. He wrote his impressions in a letter from early May 1948: "They all talked about [Jeanette] constantly, and Margaret seems to fairly worship her. The President remarked that it was the ambition of her (Margaret's) life to sing on my [radio] program - so I said of course that would be an honor for me and perhaps it could be arranged this summer if he was willing. We left it at that but I know that would please Jeanette, as no one else has been able to arrange that - so it would be a feather in my cap. Margaret told me Jeanette had invited her as a house guest if she comes to Hollywood this summer." Eddy summed up: "Margaret, by the way, is a very charming girl - plain and sincere."
Nelson Eddy's summer radio program was The Kraft Music Hall, a popular weekly series. Eddy had helped launch several young singers on his radio shows, but as it happened, Margaret Truman never appeared on his show. Despite encouragement from her idols, Truman's singing career was short-lived. She gave a Carnegie Hall recital in 1949 and then after 1950 turned her talents to television, radio and writing murder mysteries.
The above letter is quoted from the Jeanette MacDonald and Nelson Eddy biography "Sweethearts" by Sharon Rich (2001, Bell Harbour Press, page 392). "Sweethearts" can be ordered at http://www.maceddy.com/sweethearts-p-70.html.
Permission to reprint:
Journalist, newspaper publishers, bloggers and others: You may reprint this article as long as you reference this link.
Need a high def picture of Margaret Truman and Jeanette MacDonald? Use the link below.
http://maceddy.com/Margaret_Truman_and_Jeanette_MacDonald.tif
###