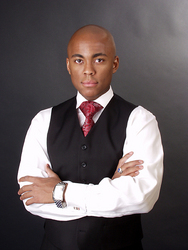 Las Vegas, NV (PRWEB) February 13, 2008
In the March 2008 issue of O, The Oprah Magazine, Dr. Farrah Gray is one of O Magazine's dream team of experts. He shares his timely financial advice on debt, the importance of multiple streams of income and wealth creation from his latest book GET REAL, GET RICH: Conquer The 7 Lies Blocking You From Success (Dutton, January 2, 2008) a no-holds-barred rejection of the fallacies we've all heard--and believed--about success and how to achieve it. By challenging the popular misconceptions many have about what it truly takes to succeed, maverick entrepreneur Dr. Farrah Gray empowers readers to blaze their own path, set their own agendas, and make their own millions.
Even though he's just 23 and has been dubbed by Oprah as an "all-star" with "priceless advice", Dr. Farrah Gray has achieved more than many experience in their entire careers.
Gray's timeline of accomplishments in entrepreneurship began at age six, when he peddled body lotion for $1.50 door to door. In Chicago, at eight years old, he started UNEEC (Urban Neighborhood Economic Enterprise Club).
At 13, he founded NE2W U.S. A. (New Early Entrepreneur Wonders University Student & Alumni) Capital Search Fund headquartered on Wall Street. Gray officially became a millionaire after hitting sales of $1.5 million for his company, Farr-Out Foods. At 15, he served as the youngest member of the Board of Advisors for the Las Vegas Chamber of Commerce and was sent a special invitation to consult and oversee an entrepreneurial institute for The Minority Business Development Agency of the U.S. Department of Commerce. Gray believes that "action," as always, counts for more than mere words founded the Farrah Gray Foundation.
From age 15 to 18, Gray served on the Board of Directors of United Way as the youngest director ever to sit on their board nationwide. When he was 16, he acquired INNERCITY Magazine from Inner City Broadcasting Corporation, the largest privately-held radio broadcasting company in the U.S. that primarily targets African-Americans.
At 20, Gray became known as an International best selling author with his first book Reallionaire, which has been printed in several foreign languages.
At 21, First Premiere Bank and Diamond Financial Products unveiled its newest debit card, The Farrah Gray "goFarr" Prepaid Mastercard®, which features Gray's likeness on it. The "goFarr" card was designed to increase financial freedom and financial literacy with financial advice from Gray during live chats, pod casts, e-mails and discussions of business trends and ideas. During the same year, he launched the University of Business Futures (UBF), an entrepreneurship school, in a partnership with the Ewing Marion Kauffman Foundation
Also at the age of 21, he became the youngest person in history to receive an honorary doctorate in recognition of his ingenious economic mind.
Gray is an AOL Money Coach, giving advice to millions of AOL subscribers daily. He is regularly featured in thousands of print, magazine, radio and television outlets, including Good Morning America, 20/20, NBC, ABC, FOX, CBS, NBC,CNBC, BET, NPR, Bloomberg and the Wall Street Journal and is a syndicated columnist with the National Newspapers Publishers Association (NNPA), a federation of 200 weekly newspapers, reaching over 15 million readers.
In Get Real, Get Rich, Dr. Gray takes us from the Chicago South Side to his digs in Las Vegas where he is Co-CEO of Realty Pros, an asset management company, which manages over $30 million in assets and now runs PROMINENT Magazine.
For more information, please visit http://www.drfarrahgray.com
To schedule an interview or to receive media information contact Danielle Jean-Jacques, Farrah Gray Foundation, Danielle(at)farrahgrayfoundation.org, (702) 878-8665
###