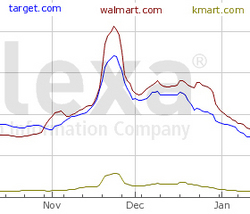 The lessons learned from these brands will be instrumental to any online retailer looking to increase sales
Traverse City, MI (Vocus) February 4, 2008
Consumers want more. And according to the latest Oneupweb study, social media marketing is the perfect way to give them just that. The study, Social Media Marketing Hits & Misses: How 2007's Hot Holiday Brands & Products Performed Online, is the second in a two-part series that explores the roles of social media in online marketing. This latest study includes best practices online marketers can use to implement social media marketing strategies for a successful 2008. It can be downloaded at OneUpWeb.com.
"The 2007 shopping season fell short of expectations. However, we found that online marketers who took advantage of social media marketing profited," says Oneupweb CEO Lisa Wehr. "The season's hot products demonstrated a remarkable diversity of new creative thinking, and it paid off. This is exactly what online marketers need to do to be successful in a rocky 2008 economy."
The Oneupweb post-holiday study examines 12 online retailers and their evolving social media strategies and tactics. It presents a verbal snapshot that details who did what online, and how well it worked.
The products and brands that were the "Best of the Best" with social media marketing strategies include:

Nintendo Wii
Coach
Pronto.com
PLEO
Sephora
Those products and brands that had a "Nice Showing" include:

Webkinz
iPod Touch
Starbucks
Target
Casio Exilim Camcorder
Those products and brands that "Missed Out" on social media marketing include:

A Thousand Splendid Suns (novel)
Taryn Rose
Oneupweb looked at each of these brands and their major competitors to determine which were popular and sold well during the 2007 holiday season, how they used social media as a part of their marketing strategy and some of the best (and worst) uses of online social media during the holidays. Oneupweb also evaluated how online marketers could apply these strategies in 2008.
"The lessons learned from these brands will be instrumental to any online retailer looking to increase sales," notes Wehr. "Our study proves that social media marketing, when done right, works."
About Oneupweb:
Oneupweb has been an innovator in online marketing for more than a decade, creating integrated online marketing plans that include natural search engine optimization, paid search marketing, podcast production, social media marketing, usability audits with eye tracking and media placement. An award-winning firm, Oneupweb was named a 2006 Michigan Top 50 Company to Watch and is the only three-time winner of the prestigious ClickZ Best Search Engine Marketing Vendor Award. CEO, Lisa Wehr, an Ernst & Young Entrepreneur of the Year, has been named to BtoB Magazine's Who's Who List four years and is recognized as a Leader & Innovator by Lawrence Technological University. The company publishes a blog entitled StraightUpSearch.com and their corporate podcast series, One for the Money, was honored with a 2007 Silver Davey Award. Oneupweb is a privately held company located in Traverse City, Michigan. For more information on Oneupweb, please call 231.922.9977 or visit OneUpWeb.com.
###