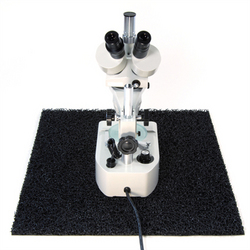 Recently the ViSpa Pads were purchased by Eli Lily for movement with their shakers. Using our ViSpa Pads has solved their movement problem
Cleveland, OH (PRWEB) February 4, 2008
Created by Martinson-Nicholls in conjunction with the 3M Company, the new ViSpa Anti Vibration Pad is specifically designed to control noise and vibration caused by all types of instrumentation operating on counter tops. Using ViSpa Pads to limit vibration of each instrument allows all instruments to perform more quietly and accurately. ViSpa Pads will eliminate movement of most instruments when they are in operation. When all instrumentation is used with ViSpa Pads, a much quieter environment results.
"Recently the ViSpa Pads were purchased by Eli Lily for movement with their shakers. Using our ViSpa Pads has solved their movement problem," reported Dan Ruminski, president.
ViSpa Pads may also be used under items that do not vibrate, such as microscopes, to help isolate them from vibrations and movement of other, nearby equipment. The pads are also reversible for use under very dirty industrial items such as bench top grinders.
ViSpa Pads are made to stand up to most chemicals found in a lab setting. They are resistant to fungus, mildew, acids, oils, and organic solvents. They also withstand bleach and other chemical bases such as sodium hydroxide and ammonia.
ViSpa Pads are easy to clean by shaking, vacuuming, washing or spraying with a hose. The ViSpa material has great memory, meaning that even after instruments have been on the pads for a long period of time, once removed, ViSpa will return to its original thickness. This property makes ViSpa more effective in controlling noise and vibration.
Martinson-Nicholls has developed two thicknesses for ViSpa. The 1/2" thickness is suitable for most applications, but a 1" thick version is offered for the most difficult problems.
Standard sizes are 12" X 12", 15" X 15" and 18" X 18" with custom sizing available. ViSpa is black in color and will last for years.
About Martinson-Nicholls
Martinson-Nicholls, has established itself as a leader in custom floor matting, heated floor mats, and safety solutions over the last 25 years.
Martinson-Nicholls provides the customer with the exact size needed-small, large, standard, nonstandard, special shapes and logos. Custom installations are also a specialty of the company.
Anti-slip safety tapes and treads are available in various sizes and textures from hand cut or die cut pieces to full rolls and special shapes.
Martinson-Nicholls concentrates on floor safety, noise reduction, and anti-fatigue and indoor and outdoor heated floor mat applications. They welcome the special applications that our customers present, as this has enabled them to satisfy come very unique and unusual problems for customers. For more information, please visit http://www.floormat.com.
###