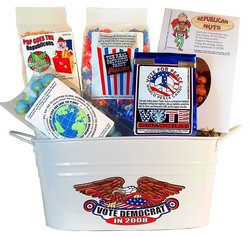 Smaller businesses offer a great product, and they are eager to satisfy their clients. We all need to work together to succeed and prosper in this great country of ours
Boise, ID (PRWEB) February 5, 2008
(http://www.redneckgifts.net) RedneckGifts.net is leading the way in unique and humorous gift baskets by adding politically controversial Election Gift Baskets in honor of the presidential election.
This is the first gift basket company ever to create a political gift basket. RedneckGifts.net now offers a Vote Democrat in 2008 gift basket, which pokes fun at Republicans, and a Vote Republican in 2008 gift basket, which pokes fun at Democrats. These humorous gift baskets includes jokes on each container, and sarcastically persuades fellow Americans to vote appropriately according to the gift giver,s beliefs.
"Our food products, by Hillbilly Creek, LLC, were selected because of taste and how they relate to the joke on the package. For instance, chocolate balls in globe foil was perfect for Stop Global Warming Chocolate Balls, and red, white and blue popcorn is called Freedom Popcorn," said Michelle Larsen, owner of RedneckGifts.net. "Other products are labeled Pop Goes the Republicans, Firearm Freedom Shot, Republican Nuts, Vote for Peace -- World Peace Candy, Democrat Flip Flop Nut Crunch, Economy Chocolate Balls and more." Michelle continues. "The jokes are very funny and get to the heart of the political issues. The gifts are meant to be humorous and to encourage us to lighten up about our political differences. We interviewed many diverse Americans for input on issues and direction for the product labels."
The newly released Election Gift Baskets only use quality products made in the United States. RedneckGifts.net supports small business in the US by buying most of the products locally from small business owners. "Smaller businesses offer a great product, and they are eager to satisfy their clients. We all need to work together to succeed and prosper in this great country of ours," Michelle includes.
RedneckGifts.net, along with IdahoGiftBaskets.net, is owned and operated under the umbrella of Creative Gift Baskets. Michelle and Jeff Larsen, owners of Creative Gift Baskets, are continually seeking out new and unusual gift basket ideas to enhance their growing company.
# # #