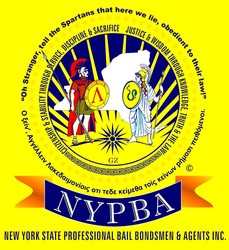 What troubles us is that this is the 18th complaint in a period of three months totaling over one hundred eighty five thousand dollars that we know about
New York (PRWEB) February 4, 2008
The New York Professional Bondsmen & Agents Association President & Founder George Zouvelos (the NYPBA) (http://www.NYPBA.net), and President of Spartan Bail Bonds (http://www.SpartanBailBond.com) uncover alleged massive fraud and alleged large scale organized theft being committed against the mostly poor & desperate New Yorkers waiting to hear bail conditions for loved ones in New York, Brooklyn, Queens, Bronx & Hempstead Long Island arraignment courts. Imposter bail bondsmen are also swindling persons waiting to pay bail at jail cash windows at New York City Department of Correction.
"What troubles us is that this is the 18th complaint in a period of three months totaling over one hundred eighty five thousand dollars that we know about," stated George Zouvelos, President & Founder of the NYPBA. Once the news publicizes the theft and bondsmen imposter crimes many more will come forth. "Thus far, no action has been taken by Chief of Public Safety, New York State Office of Court Administration (http://www.courts.state.ny.us) to issue NY bail bondsmen Secure-Pass identification that would virtually eliminate the bondsman imposter situation," stated Zouvelos.
NYPBA previously made several requests in writing last February 26th 2007. The NYPBA request was for Secure-Pass identification issuance for New York State duly licensed bail bondsmen and addressed the real security possibilities and concerns surrounding possible future fraud and theft as brought forth to Chief Jewel Williams, First Deputy Chief of Public Safety, New York State Office of Court Administration http://www.nycourts.gov/admin/publicaffairs/photogalleries/911_2007/photo9.htm).
At that time Chief Jewel Williams insisted that no security need for the issuance of Secure Pass for bondsmen will be authorized as their is never any threat to public safety, fraud, theft or deception. Williams stated that bondsmen are not on official business in courthouses and no Secure Pass access was necessary for licensed bail bondsmen across the state.
An NYPBA investigation found that the Office of Court Administration website states that Secure-Pass identification is reserved strictly for licensed attorneys. However; many journalists, private investigators, paralegals, contractors and others that may have ongoing official business and are also private commercial interests are allowed to apply openly and receive Secure-Pass identification. The licensed New York State bail bondsmen in a blanket decision by Williams were out rightly denied Secure Pass.
"We now know for a fact that Chief Williams made a critical error in denying licensed bail bondsmen the ability to apply for Secure-Pass identification. Now Chief Williams must live with her decision and seriously reexamine her ill policy that actually went against the publics' interest," stated Zouvelos.
New York State licensed bail bondsmen, as in all states with a commercial bail industry, relieve the criminal justice system of billions dollars taxpayer waste nationally. Bondsmen and their agents arrest and return fugitives, absconders and bail jumpers to civil custody without any cost to taxpayers; reduce dangerous jail overcrowding as the jails that are near full capacity in the New York City 5 boroughs.
"I contacted the Queens County Criminal Court Borough Chief Clerks Office after receiving a letter dated January 18th offering true concerns over reports of persons identifying themselves as bondsmen and are soliciting bail on court property. I spoke to Chief Clerk Joe Vitolo & advised of the recent alleged imposters and theft. Vitolo stated that he would never work with our association or the bondsmen under any circumstances to remedy these or any other issues," stated Zouvelos.
Spartan Bail Bonds and the NYPBA filed a New York City Police Department criminal complaint (New York 5th Precinct #112) 12:30AM with 5th precinct as clients had reported they were just solicited in the Manhattan courthouse and the Tombs payment window. Two unidentified male blacks claiming to be bail bondsmen from Spartan and Freedom Bail Bonds were soliciting bail at 100 Center Street Courthouse and the Jail Bail window at the Manhattan Tombs. Zouvelos and his investigators responded as the imposters identified themselves as bail bondsmen and solicited $5700 from Zouvelos in order to bail out his loved one. Zouvelos and his team held the suspects until armed court officials responded. After verifying their wrongdoing with others at the bail window the Court Officer released the suspects and refused to hold the suspects for Zouvelos until the New York City Police Department, which was already en route, responded.
"The very serious fears of evil doers defrauding the public impersonating licensed bail agents without identification have now been caught on court video camera. More importantly, the unnecessary threat to life and property by the unauthorized release of defendants by imposter is a true threat and reality. We can substantially prevent these types of crimes if the proper OCA Secure Pass identification was to be issued to the bondsmen and women, having official business across all the state courthouses," stated Zouvelos
The NYPBA warns to never conduct business if you are not absolutely certain that the person representing him/herself as a licensed bail agent and is indeed legitimate. The issuance of OCA Secure Pass identification will virtually eliminate this imposter issue as attorneys, paralegals and others already utilize this as an only source of identifying themselves to the public. The Department of Insurance, the New York State regulatory agency responsible for bondsman oversight, does not issue any kind of identification. Even if they did it would not be recognizable or acceptable form of identification to the court system, police or correction departments or any other criminal justice venue.
George Zouvelos, president and founder of the NYPBA, his membership and the crime victims are calling for an immediate investigation and the elimination of these bias policies against bail bondsmen in order to reduce and eliminate the severe security risks and the immediate issuance of Secure Pass identification to bail bondsmen conducting official business in all New York State courthouses.
New York City Police Department (http://www.ci.nyc.ny.us/html/nypd) 84th police precinct January 24th 2008 criminal complaint number 462.
Contact:
New York Professional Bondsmen & Agents Association, The NYPBA
Mr. George Zouvelos
917 613-3320
NYPBA@earthlink.net
81 Baxter Street
New York, NY 10013
http://www.NYPBA.net
http://www.Spartanbailbond.com
###