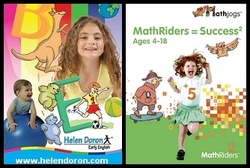 The potential for marketing Maths through our MathRiders tutoring courses in the UK is enormous
London, UK (PRWEB) February 5, 2008
The first UK Helen Doron Educational Franchise for Maths and English will be opened soon in London and Kent by local entrepreneur and veteran teacher Su See Lam. She will become the premier Master Franchisor for one of the most exciting educational business opportunities available worldwide. Since 1986, Helen Doron educational enrichment has offered pedagogic programs of the highest calibre giving children the boost they need in Maths and English within an immensely popular and unique learning format.
"The potential for marketing Maths through our MathRiders tutoring courses in the UK is enormous," explains Anne Gordon, VP of Business Development for the Helen Doron Educational Group. "The UK government has recently expressed grave concerns over the poor level of children's Maths skills in the education system, and more and more businesses report that good jobs in science and engineering are going to candidates outside of Britain due to lack of suitable maths-savvy locals. This is exactly where a high-quality maths tutoring program like MathRiders can really make a difference. Through MathRiders personalized programs, every child can achieve success."
MathRiders for ages 4 - 18 helps students acquire a firm knowledge in algebra, arithmetic, geometry and more. Lessons are conducted in small groups and provide specially developed learning materials that enhance logic skills and challenge thinking on all learning levels. MathRiders programs are designed to encourage study habits and build vital logic processes in the brain. Students not only advance in one Maths discipline, they learn a variety of subjects that enable them to more easily internalize new concepts.
"Children at all learning levels are helped by MathRiders" says Su See Lam. "The courses really get young people motivated! Learning starts as early as 4 years old with our junior program called Mathjogs. It sets the stage for positive reinforcement of basic mathematical concepts and important cognitive development using exciting new learning tools such as original stories about mathematicians and their ideas plus music and songs on CD, and positive social interaction."
Su See is also a proud Master Franchisor for world renowned Helen Doron Early English. "Only the Helen Doron learning system gives children from as young as 3 months and up to 14 years the ability to acquire English quickly and naturally - all within fun encouraging lessons in small groups. This is especially important language reinforcement for children growing up in non-English speaking homes. Even infants benefit, with programs specially created to advance their cognitive skills and exercises to enhance bonding with parents."
Su See's vision for success is based on her belief that the standard of English and Maths in England has been reported as having deteriorated over time. This has led to an increase number of parents seeking extra help after school hours to assist their children in achieving a higher standard. The enrichment programme that Helen Doron Educational systems offer will be of great benefit to enable students to revisit topics not grasped in schools and to introduce learning through music and songs, which is what the government proposes to do in primary schools.
The first Master Franchise operation for MathRiders (http://www.mathriders.co.uk/franchise-details.php?a8=1) and Helen Doron Early English will be in the regions of London and Kent" says Anne Gordon. "Based on our success in Europe we are confident of fully franchising all of the UK within the next 3 years. We plan to build one of the largest educational enrichment operations in the UK. Helen Doron's specially designed educational systems are recognized around the globe for excellence and are at the cutting edge of the rapidly growing educational enrichment market worldwide. (http://www.helendoron.com/business-opportunities.php)
We are currently seeking potential franchisees with the right business qualifications and marketing orientation, keen to take advantage of this remarkable franchise opportunity in their area. After working with competitor's materials, Su See was extremely impressed by the quality of the Helen Doron Educational methodology and the exciting range learning materials available for all age levels. She now looks forward to a bright future as a Master Franchisor with Helen Doron Educational Maths and English.
For more information visit: http://www.mathriders.co.uk
and http://www.helendoron.com
Contact person: nathan(at)helendoron.com
Phone: +972 (0)4-9027905
Fax: +972 (0)4-9990543
News items: http://www.mathriders.co.uk/mf_uk.php?a2=1
###