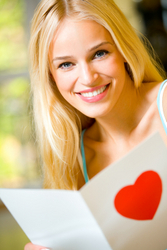 Every year I get depressed and lonely on Valentine's Day because I'm still single.
Las Vegas, NV (PRWEB) February 5, 2008
According to the U.S. Census Bureau there are more single women than men in America. Traditionally, Valentine's Day has been a day for couples, sharing a romantic dinner out, exchanging flowers, cards, and loving sentiments. But what if you're single?
Valentine's Day can evoke feelings of low self-esteem, loneliness and depression for millions of single women. According to a recent dating poll of 1,840 single women conducted by WomanSavers.com, 43 percent of single women felt "indifferent" about or even "disliked" Valentine's Day.
While new social networking sites such as plentyoffish.com focus on finding a date, more single women are finding support and community with other women at sites like WomanSavers.com, which hosts one of the most popular women's forums on the internet, where women find dating advice and support overcoming past relationships. The site also lists thousands of men "not to date" input by women who want to warn other women. One single 27-year old woman confessed, "Every year I get depressed and lonely on Valentine's Day because I'm still single."
So what should single women do when they find themselves all alone on Valentine's Day while being bombarded with commercial images of happy couples in love?
Stephany Alexander, dating expert, suggests, "Valentine's Day is not just for couples anymore." According to Alexander, one of the top ways for single women to celebrate Valentines Day is to enjoy the benefits of being single. Here are a few of her tips for single women:
1. Having a relationship does not define your identity. You define your identity. Recognize that if you are single, you aren't alone and you can still celebrate the love in your life through other important relationships.
2. Understand that Valentine's Day is a commercial holiday that is mainly about sales; selling jewelry, flowers, candy and booking restaurant reservations. The National Retail Federation estimates that Americans spend $13 billion each year on Valentine's gifts. You can choose not to be part of the consumer hype and make your Valentine's day more memorable.
3. Decide what your definition Valentine's Day is. Is it a day you want to celebrate or is it just another day? If it's just another day, simply go about your routine as usual and mark a date on your calendar when you wish to celebrate all forms of love in in your life.
4. If you are recently single celebrate the day with other singles. Make plans with friends or family who already love you whether you are single or not. Do not let a couple-emphasized society define your choices.
5. Plan to do something for yourself in advance. Don't make reservations at a restaurant on Valentine's Day or you will surround yourself with couples which may depress you. Instead, rent your favorite DVD, take a long, decadent candle-lit bubble bath, treat yourself to buy an item from your favorite shop or book a day at a spa.
6. If you love being single, celebrate it, and not just on Valentine's Day. Use this particular day to try something new. Take up a new hobby, work on a project or work on yourself. People who never marry or are single can have close, loving relationships and lives worth living.
7. Volunteer. Spend Valentine's Day giving and sharing your time to help others. You may be able to give and receive more love by volunteering as a single than many couples do following the traditional route.
8. Take steps to meet someone new. If you aren't happy being single, it is up to you to take action to change your situation. Put yourself out there. Consider trying on line dating, take up a hobby where you can meet some men such as golf, or ask your family and friends to set you up.
9. Celebrate love with your pet. Hang out with your pet and if you don't have one, head to your local animal shelter and adopt. Nothing is better than a pet who loves you unconditionally, cuddles and is warm and soft.
10. Single mothers out there, lucky you! You already have a Valentine and you can spoil your son or daughter by baking something special or simply spending time with them.
"Valentine's Day is for being grateful about love in all its forms which can be everything from loving a parent or grandparent, to loving your child or a friend," says Alexander. "It can even be as simple as celebrating your love for a pet. However, as Whitney Houston once sang, the greatest gift of all is learning to love yourself." Happy Valentine's Day!
To interview Stephany Alexander email womansaversatwomansaversdotcom
About Stephany Alexander:
Dating expert Stephany Alexander the founder of WomanSavers.com, the world's largest database rating men and the author of Sex, Lies and the Internet -- An On line Dating Survival Guide. She has been featured on FOX Nationwide, Mike and Juliet Show, Associated Press, New York Times, Chicago Tribune and has been a guest on hundreds of radio shows worldwide. She is the author of Sex, Lies and the Internet, An Online Dating Survival Guide that helps women screen dates.
###