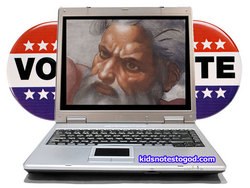 I usually don't like to mix religion and politics
Tokyo, Japan (PRWEB) February 4, 2008
Despite the massive efforts of the USA presidential candidates on both sides of the aisle to win over the internet crowd, God still remains a more popular search term than any of the candidates, including Ron Paul and Hillary Clinton.
According to Craig Desorcy, an internet marketing consultant who handles optimization and traffic generation for his clients' sites, a recent look at Google's trends tool - which compares search volume for online keyword searches - quickly revealed who is still "top dog" online.
"Because I manage both religious and political sites for my clients, it's important for me to know what topics and keywords are most popular among web surfers," explains Desorcy. "I recently ran a comparison of searches for the top-tier presidential candidates' names in both parties and for God. I looked at the search data for last month - January 2008. Except for the fairly regular daily spikes whenever Ron Paul has one of his massive online fundraising successes, God is still getting the highest volume of searches."
As for Hillary Clinton, she's having a hard time keeping up with both Ron Paul and God in the battle for online searches. "Search volume on Hillary's name is steady, but nowhere close to Ron Paul's and God's," Desorcy says.
What does this information mean for the candidates? Desorcy suggests the following, "Obviously, religion remains a very important issue for internet users. It would seem to me that the candidates who want more online attention would make sure they explain their views on God and religion in their online content and promotions if they want to get even more attention from voters who are internet savvy."
Desorcy plans to use the data he's uncovered to improve the rankings and traffic of his and his clients' sites. "I usually don't like to mix religion and politics," says Desorcy. "In fact, on my top Christian blog, themes related to politics are completely avoided. If I ever added 2008 election information to my Kids Notes To God site, my visitors would not stick around to enjoy the content, which is mainly child bible lessons. On the other hand, for my clients with political websites, I'll certainly be adding more content related to the religious views of the candidates."
###