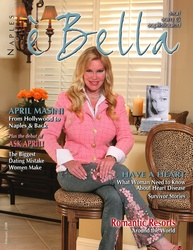 The epitome of smart, savvy and sophisticated, April is all about empowering women in the dating and relationship arena
Naples, FL (PRWEB) February 5, 2008
How many dating advice columnists would tell women that men would rather date a captivating and fascinating seductress than a sweet, inexperienced "good girl?" One: April Masini. And she says it without apology.
Masini recognizes that today's single woman craves that type of frank advice. She doesn't hold back -- she's direct and brutally honest. That's what readers want, and keep coming back for - The Truth.
Today's woman wants someone who can tell her, once and for all, how to attract, date, seduce -- and keep -- the man of her dreams. The Ask April advice column offers the tell-it-like-it-is advice that readers have been needing, but couldn't find -- until now.
"The epitome of smart, savvy and sophisticated, April is all about empowering women in the dating and relationship arena," says èBella publisher Sharon Hood. "Her no-nonsense relationship advice is a breath of fresh air - and judging by the reaction we get every time April's new advice column is mentioned, it's a sure-read for all women, regardless of their relationship status."
Some of the topics to be covered in èBella Magazine's Ask April advice column:

Man-Hunt: 5 mistakes to avoid when pursuing a man
Decode Man-Think: Learn what men want
Modern Mating: Discover how to make online dating work for you
Burned By Love? Find out how to get back into the dating game after a break-up or divorce
Get the skinny on why you don't have to be a size 4 to be sexy
Full Disclosure: Get the truth about telling all
What to do if you're dateless on Valentine's Day
è Bella magazine is a new, upscale monthly publication that celebrates, inspires and empowers women in Southwest Florida. In addition to April's insightful dating and relationship advice column, the magazine contains articles by experts in a variety of fields sharing information women can use to enrich their lives.
April Masini is the President and CEO of Masini Enterprises, Inc. in Los Angeles, the multi-faceted media company tied to internationally recognized television and film productions such as, Baywatch, Blue Crush, The Miss Universe Pageant, and Lifestyles of the Rich & Famous.
April Masini, a Naples resident, is the best-selling author of four dating advice books, including: Date Out Of Your League (TurnKey Press, 0-9746763-0-6) and Think & Date Like a Man (iUniverse, 0-595-37466-2).
http://www.AskApril.comhttp://www.AskApril.com
###