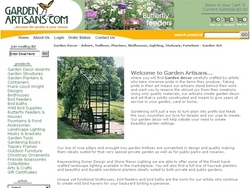 Annapolis, MD (PRWEB) February 5, 2008
With outdoor living spaces becoming increasingly popular, homeowners everywhere are growing more style conscious. These homeowners are planting beautiful home gardens and creating casual outdoor spaces. As spring nears, many people will begin this garden planning process. Coinciding with this upcoming season, Garden Artisans proudly announces their new outdoor garden décor product line, Classic Garden Elements®.
Gardeners, landscapers and architects alike will delight in the durability and style consciousness of these garden trellises and other exceptional decorative items to capture the magic and imagination of the human spirit. Perfect for unwinding, gardens and outdoor living spaces act as a tranquil place. Garden Artisans' products feature high-end and unique details. Carefully constructed by craftsmen and artisans, these garden trellises, arches, statuary, and other décor portray elegance while standing the test of time. Using only quality materials, Garden Artisans' home and garden décor is firmly constructed.
Janet Kirkpatrick of Garden Artisans, explains, "We are committed to providing our customers with high quality products. Staying true to our motto, 'because the garden is your canvas,' we are proud to offer Classic Garden Elements® beautiful outdoor garden décor to our customers so that they may indeed create the garden of their dreams. We also believe, with consumers becoming more and more environmentally conscious, purchasing quality products that will last and not contribute to our burgeoning landfills with less durable gardening goods cannot be understated. At Garden Artisans, we understand that gardening is much more than turning untouched earth into something pleasant, but it also feeds the soul while nourishing our love for beauty."
Additionally, Garden Artisans' vast line of home and garden décor features rose pillars, wrought iron garden trellises, rose garden arches, planters, and rose arbours. With a wide range of garden structures, statuary, and décor, gardeners can choose the product that best meets their needs and desires.
Dedicated to helping customers create the garden of their dreams, Garden Artisans' new line of Classic Garden Elements® transforms dull, lifeless spaces into distinguished, colorful works of art. Echoing nature's beauty and harmony, Classic Garden Elements® combines practical gardening use and stunning aesthetic details. Built to last, the garden structures crafted by Classic Garden Elements® are ideal for private gardens, public parks, and rosaries.
To learn more about Garden Artisans' new product line featuring garden arches and wall trellises, please visit GardenArtisans.com.
About Garden Artisans
Garden Artisans was designed for the growing number of garden enthusiasts looking for quality time-tested products. With a love for gardening, Garden Artisans' staff is able to extend imagination, creativity, and a tender loving touch to thousands through hand crafted home and garden accents and décor. Garden Artisans' vast product line includes planters, decorative birdhouses, large garden statuary, butterfly garden décor, stunning garden arches, fountains, outdoor furniture, and much more. These hand-crafted works of art can transform any garden.
###