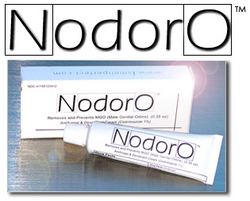 I believe in the expression: Put your money where your mouth is. So that's exaclty what I'm doing. Just cover the $3.95 shipping fee (US only) which I'm not profiting from, so that you can see for yourself. Improve your hygiene, relationship(s) and to get rid of the odors. Order online right now at ismellperfect.com. To get your discount, enter the promo code: PERFECT
Miami, FL (PRWEB) February 5, 2008
NodorO™ is available for FREE on ismellperfect.com until Saturday 2/9/08 at midnight, as a promotional giveaway campaign. NodorO™ (as seen on the Howard Stern show, the Late Show with David Letterman and on Playboy radio) is a safe and effective OTC (Over The Counter) medicated cream developed in accordance with an FDA approved monograph; NodorO™'s brand was specifically created to remove and prevent MGO (Male Genital Odors).
President/CEO and NodorO™ Creator, Dominic Adams has been receiving such an amazing positive response from NodorO™ users, that he decided to let the world try NodorO™ for free (limit of one tube per person. Until supplies last). "We only launched NodorO™ 1 month ago, and we've already received repeat orders and amazing feedbacks from people having fast results. A lot of people who have MGO might be skeptical, because until now, there hasn't been any effective known solution for this problem. As a client myself, I'm here to prove and share with the world that NodorO™ truly works by offering NodorO™ free of charge. I am making this offer because I know that people will be back for more, once they realize how fast and effective it works." Says Adams.
"I believe in the expression: Put your money where your mouth is. So that's exaclty what I'm doing. Just cover the $3.95 shipping fee (US only) which I'm not profiting from, so that you can see for yourself. Improve your hygiene, relationship(s) and to get rid of the odors. Order online right now at ismellperfect.com. To get your discount, enter the promo code: PERFECT".
Unlike other products such as scented oils and perfumes, NodorO™ does not mask or cover up the smell; it kills, destroys, removes and prevents odors.
NodorO™ is proudly manufactured in the United-States.
NodorO™ is available for ordering on our website at: ismellperfect.com
OR
You may call us with questions on our product at 1-877-8-NODORO.
Synerfied Healthcare is a division of Synerfied Capital Inc. a company that specializes in diversified investments.
Media Contact:
Synerfied Healthcare
Media Contact
10 SW South River Dr.
Suite# 1207
Miami, FL
305.325.1522
###