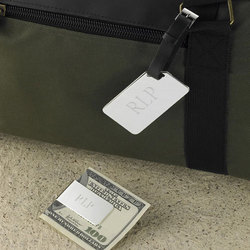 Would most guys prefer personalized gifts like functional luggage tags that they can use for years, or another golf tie that will sit in the closet?
Jacksonville, Florida (PRWEB) February 7, 2008
In anticipation of a continued trend of heavy online holiday buying, APerfectWallet.com has added a personalized sterling silver money clip and luggage tag to their high-end engravable gift offerings. The company says it is responding to a continued demand for personalized gifts by adding this, and other items, in time for the holiday.
When vice president, Michelle Chance, read that online orders for Valentine's gifts increased by 23 percent in 2006 compared to the year before, (as reported by PayPal) she saw it as an opportunity to increase the selection and quality of personalized gifts just in time for the Valentine's gift giving season. As consumers seek to express their love, online retailers are seeing an increased demand for buying without the hassle of driving to a mall.
After successfully instituting the rare 100% No Risk Perfect Gift Guarantee which allows customers to return even engraved gifts, APerfectWallet saw customer confidence soar. "Now," says Chance, "many of those same customers who bought things like personalized money clips for the Christmas season are returning to see what we have to offer for Valentine's gifts. I added the money clip and luggage tag pairing because customers have told us that they want items that are both unique and functional. Our engraved collection of aluminum, textured or hinged money clips are especially popular with clients looking for luxury items at reasonable prices."
"Items like the ladies' money clip with its sleek red wallet seem to have the right combination of personal and utilitarian appeal. Men who hate to shop love this item. On the other hand," states Chance, "many women struggle with finding suitable gifts for men on a holiday that specializes in chocolate, flowers, jewelry and teddy bears. I think that's why items like personalized money clips or high quality leather moneyclips are such popular Valentine's gifts this year."
Statistics show that more than 60 percent of people celebrate Valentine's Day and, of those, many of them buy Valentine's gifts or cards for not only their romantic partners, but for other family members, friends, children's friends and teachers, and even co-workers. BIGresearch reveals that average Valentine's gift spending from 2001 to 2007 went up by almost 50 percent, from $82.60 to $119.57.
Most traditional choices include candy, flowers, jewelry or dinner in a restaurant. Chance's buyers are looking for something a little less common. "Our clients what to give gifts that will be remembered and used," she says.
Shopping online has steadily increased as consumers aim to save money on gas, and to save time and to eliminate stress. The desire to avoid hazardous winter driving conditions seems to be another motivator of online shoppers for Valentine's gifts. Of course, flexible delivery options can even allow for last minute shoppers to still enjoy the advantages of online shopping.
"Think about it," Chance advises, "Would most guys prefer personalized gifts like functional luggage tags that they can use for years, or another golf tie that will sit in the closet?" Shoppers also report that it feels better to spend money on something that the recipient will be able to use over and over, rather than to spend the same amount on consumables like candy and flowers.
"By combining our Perfect Gift Guarantee with the ease of purchasing premier Valentine's gifts I think we've created an ideal situation for holiday gift giving."
For additional information contact: Michelle Chance CS Ideas, Inc. Tel: 1-904-253-6890 Fax: 1-707-220-4108, contact@csideas.com http://www.aperfectwallet.com
Aperfectwallet.com has added several personalized items to its premium line of personalized gifts just in time for Valentine's Day.
Contact: Michelle Chance
CS Ideas, Inc.
Tel: 1-904-253-6890
Fax: 1-707-220-4108
contact@csideas.com
http://www.aperfectwallet.com
# # #