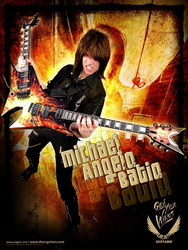 Yes, that is Michael Angelo Batio wearing a WristStrong bracelet right there. I understand that Mr. Batio won the Nobel Prize for his research on quantum shredding.
Mahwah, New Jersey (PRWEB) February 5, 2008
Imitation is the sincerest form of flattery. So, when Dean Guitars set out to design a pickup that could encompass the sound that simulates one of the most legendary guitarists of all time, they knew they had to go directly to the source. Michael Angelo Batio identified the fact that, not only do clarity and attack reign supreme as part of his playing prowess, but that he relies on his neck pickup for many of his beautiful, round tones. Armed with this knowledge and a superior engineering team, Dean Guitars has now crafted this brand new humbucker pickup appropriately dubbed the 'Hands Without Shadows®' or 'HWS'. The HWS pickups will be made exclusively at Dean Guitar's new million-dollar pickup design and manufacturing facility located in Tampa, Florida.
Finally, users can recreate Michael Angelo Batio's world-class tone in any solid-body electric guitar.
Specifications:
Position: Neck/ G-spaced
Bobbin/Cover color: Black/Black
Cable: 4 conductor
Magnet: ceramic
DC Resistance: 12K
Unveiled at NAMM 2008 in Anaheim, CA, the new Dean Hands Without Shadows® (HWS) Michael Angelo Batio Signature pickup is now available at retailers worldwide. The manufacturer's suggested retail price will be $79.95 http://www.deanguitars.com/pickups/pickups/mab.gif
The Dean Michael Angelo Batio signature MAB1 AF Armorflame http://www.deanguitars.com/dean_winter_07/electrics/mabmedlg.jpg will be available March 1, 2008 at Dean retailers.
On January 24, 2008 a recent image of Michael Angelo Batio http://www.flancrestenterprises.com/images/angelowriststrong.jpg and segment taken from MAB's "Speed Kills" instructional video using his "Circuit Board" Double guitar appeared as part of Comedy Central's "The Colbert Report". The story was created to promote Stephen Colbert's "Wriststrong" campaign, designed to create public awareness and financial support for injured American soldiers http://ccinsider.comedycentral.com/cc_insider/2008/01/send-a-wriststr.html
"Yes, that is Michael Angelo Batio wearing a WristStrong bracelet right there. I understand that Mr. Batio won the Nobel Prize for his research on quantum shredding." - Stephen Colbert
More information on Michael Angelo Batio, including 2008 tour itinerary, can be found at his official website: http://www.angelo.com
Additional information can be reached at MAB's Myspace.com page: http://www.myspace.com/michaelangelobatio
Michael Angelo Batio's music, DVD's, and merchandise is available directly at http://shop-angelo.com/
About Michael Angelo Batio:
Michael invented and was the world's first player of the twin-necked, left and right-handed Double-Guitar. Michael started his own record label, "M.A.C.E. Music" in 1993 and was one of the first music companies to go online in 1996.
Michael started playing piano and composing at age 5 and started playing guitar at age 10. Michael had two major label record deals with both Atlantic Records with the band 'Holland' and Rhino/Warner Brothers Records with the band 'Nitro'. Michael started as a session guitarist when he was 19 years old. He has recorded TV, radio and industrial film music for: Burger King, Pizza Hut, Taco Bell, KFC, United Airlines, United Way, McDonalds, Beatrice Corp., and the Chicago Wolves hockey team among others. At 14 MAB was playing Jazz and by 15 won the Chicago-based "All-State Jazz Solo Award" for outstanding Jazz soloist on guitar.
Michael Angelo Batio is from Chicago and has a B.A. in Music Theory and Composition from Northeastern Illinois University.
Michael Angelo Batio uses Dean guitars exclusively, T-Rex pedals, and Dunlop picks.
Hands Without Shadows ® is a registered trademark of Michael Angelo Batio and M.A.C.E. Music
HWS is a trademark of Michael Angelo Batio and M.A.C.E. Music
Contact: Drew Christoffel
M.A.C.E. Music: 201-370-5587
Drew@angelo.com
###