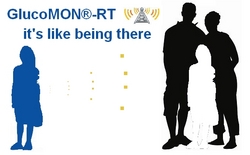 The simplicity of the GlucoMON wireless device has made taking care of my 6 yr old son much easier with features like being able to view his blood glucose on my phone while he is at school
Dallas, TX (PRWEB) February 6, 2008
As the result of over 5 years of development in over a dozen clinical trials conducted throughout the USA, Diabetech is pleased to announce the direct-to-consumer commercial availability of the GlucoMON-RT subscription service for delivering real-time blood glucose alerts to remote caregivers as well as automated reporting. This program has proven to be especially valuable for families with children at school who must cope with the remote aspects of managing their children with type 1 diabetes. Children with 'type 1' require insulin and are always at high risk of severe complications. The blood sugar lowering effects of insulin also lead to seizure, coma and other serious life-threatening events. The GlucoMON-RT 'out-of-the-box' experience is the easiest way to collaborate with others who share in the management of an individual's diabetes.
Peace of mind for families and independence for the person with diabetes starts at $29.95/mo with no hardware to buy and no airtime contracts with the subscriber's existing cellular provider. For a limited time there is also a significantly discounted subscription for those who elect to prepay the first year of service. Orders for service including gift certificates may be placed online at http://mygluco.com or by contacting Diabetech toll free at 877.My.Gluco (877-694-5826). As part of the commercial launch, Diabetech is offering the 20/20 Plan (20 day trial for $20) and a referral program called "Get 3 Ride Free". For details, please contact Diabetech.
"The simplicity of the GlucoMON wireless device has made taking care of my 6 yr old son much easier with features like being able to view his blood glucose on my phone while he is at school", says Kerry Holcomb of Odessa,Texas and Mom to Cade. "It lets me make decisions and play a bigger role in his diabetes care without having to depend too much on his school or having to drive to school each day. The color-coded chart that I receive also saves me a lot of time in understanding his numbers. Being part of the Diabetech community is important to me, too, since I know they are working each day on new ways to make dealing with this disease easier".
The GlucoMON-RT subscription service is also useful for adult children with an elderly parent(s) who require additional oversight. Physicians, schools, churches, day care and assisted living centers, and nursing homes also benefit when consumers make the commitment to extend their diabetes self-care toolkit with GlucoMON-RT.
In addition to Diabetech's direct-to-consumer programs, Diabetech already supports thousands of interventions each year for provider-directed diabetes programs. Endocrinologists and Certified Diabetes Educators enjoy the benefit of working with their patients via this technology since Diabetech's Automated Diabetes Management System (ADMS™) enables efficient and reliable communication resulting in a more effective and efficient model of care. Practitioners are encouraged to contact Diabetech regarding a demonstration of ADMS on the way to becoming a Regional Diabetes Center of Excellence and/or to become a member of Diabetech's Preferred Provider Network.
About Diabetech
Diabetech is an award winning diabetes technology and program service provider based in Dallas, Texas. With simplicity at the core of our system design principles, Diabetech enables real-time diabetes patient monitoring and intervention. For more information on the company, please visit http://diabetech.net Diabetech and GlucoMON are registered trademarks of Diabetech, LP. ADMS is a trademark of Diabetech, LP. Diabetech technologies and programs comply with all applicable federal and state regulations.
###