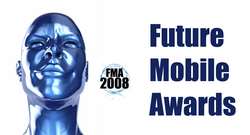 . It has successfully leveraged the strength of the EA brand to dominate the mobile gaming charts across a host of markets.
Hampshire, UK (PRWEB) February 6, 2008
Mobile games innovators, EA Mobile, have been selected by Juniper Research as the top award winner in the mobile games category at this years, Future Mobile awards.
The Future Mobile Awards are given to companies that we believe have made significant progress within their sector during the previous year, and are now poised to make considerable market impact in the future. The gold award recognises EA mobile for making an outstanding contribution to the future of the mobile games industry.
The awards were granted by a panel of expert judges based on a number of criteria, including: Innovation; Customer retention; Customer growth; Commercial deployment; Ease of use/user interface; Revenue generation; Pricing (for services/products); and Capability/functionality. From a short list of nominations, the case was made for each nominee, with their relative merits and shortcomings debated and scored. Gold and Silver awards were conferred for each category.
Dr Windsor Holden, panel judge and principal analyst at juniper Research says, "EA Mobile continues to be one of the leading mobile games publishers in the world, producing a range of compelling, exciting titles which are popular with consumers and reviewers alike, including "The Sims 2 Pets", "Tiger Woods PGA TOUR 07" and the recently published "Need 4 Speed: Pro Street". It has successfully leveraged the strength of the EA brand to dominate the mobile gaming charts across a host of markets."
In each category a gold and silver award is given for contribution to the market, the silver award winner for the mobile games category was Gameloft.
"We are honored to win the Future Mobile Gold Award from the judges at Juniper Research," said Travis Boatman, VP Worldwide Studios at EA Mobile. "We're pleased to have been recognized for our continued commitment to the mobile space. EA Mobile will continue to incorporate innovative features in the company's products like we did in 2007 - Tetris included over-the-air multiplayer and chat, The Sims DJ allowed you to create in-game music and save it as a ring tone, and Tiger Woods 07/Need for Speed Prostreet were great examples of excellence in 3D."
Electronic Arts Inc. (EA) is the world's leading interactive entertainment software company. Founded in 1982, the company develops, publishes, and distributes interactive software worldwide for video game systems, personal computers, cellular handsets and the Internet. In fiscal 2007, EA posted revenue of $3.09 billion and had 24 titles that sold more than one million copies. EA's homepage is http://www.ea.com. More information about EA's products can be found on the Internet at http://info.ea.com
For further information on the awards please visit http://www.juniperresearch.com/futuremobileawards.htm or contact John Levett at telephone +44(0)1256 830002. Juniper Research provides research and analytical services to the global hi-tech communications sector, providing consultancy, analyst reports and industry commentary.
###