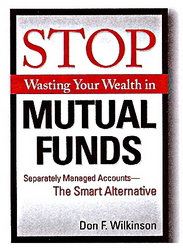 Building Wealth with Separately Managed Accounts
Newport Beach, CA (PRWEB) February 7, 2008
Ken Fisher, noted columnist in Forbes Magazine, in his recent column entitled "I Still Hate Funds" praised a new author's book with one lucid statement: "The first 35 pages of Don F. Wilkinson's 'Stop Wasting Your Wealth in Mutual Funds ...' are worth the book's $20 purchase price. Read them!"
Fisher, best selling financial author and Forbes portfolio strategy columnist for 23 years, gave thumbs up on a book by one of his author contemporaries that reveals why mutual funds are wrong for building wealth for many investors.
Fisher is renown as a top-ranked stock market forecaster, a New York Times best selling author of four investment books, and is CEO of Fisher Investments -- a $45 billion dollar money management firm. His current book entitled: "The Only Three Questions that Count" has been a consistent best seller.
Don Wilkinson, owner of a wealth management firm in Newport Beach, CA, published his first book, entitled: "Stop Wasting Your Wealth in Mutual Funds ... Separately Managed Accounts -- The Smart Alternative", covering the disadvantages of mutual funds in the early chapters of this book but goes further in later chapters suggesting a more positive investment vehicle than mutual funds: The Separately Managed Account.
The Separately Managed Account (SMA) is an asset management-building portfolio strategy offered by financial advisers and other financial agencies, which are managed by independent money managers under an asset-based fee structure.
SMAs have been around for 30-plus years accommodating very high net worth clients, foundations and corporations who desired meeting specific financial objectives that did not fit in the parameters of a mutual fund investment. Selected professional money managers, portfolio customization, objective investment advice for a set fee, diversification, tax efficiency and general flexibility that have made SMAs the best choice among informed investors.
The SMA industry is currently being rediscovered by investors of more modest means says Wilkinson in his book. Due to technology and backroom advances, the bar of entry has been lowered. While it's true that at one time, SMAs had six-figure minimum balance requirements, many of today's programs allow investors to set up an SMA for around $50,000.
For more information on SMAs, visit http://www.wastingwealth.com and order a free revealing report entitled "Building Wealth with Separately Managed Accounts". Wilkinson's book can be ordered also on the web site also or at amazon.com.
###