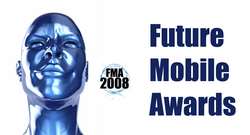 Hampshire, UK (PRWEB) February 6, 2008
Mobile TV innovators, 3 ITALIA, have been selected by Juniper Research as the top award winner in the mobile TV category at this years, Future Mobile awards.
The Future Mobile Awards are given to companies that we believe have made significant progress within their sector during the previous year, and are now poised to make considerable market impact in the future. The gold award recognises 3 Italia for making an outstanding contribution to the future of the mobile TV industry.
The awards were granted by a panel of expert judges based on a number of criteria, including: Innovation; Customer retention; Customer growth; Commercial deployment; Ease of use/user interface; Revenue generation; Pricing (for services/products); and Capability/functionality. From a short list of nominations, the case was made for each nominee, with their relative merits and shortcomings debated and scored. Gold and Silver awards were conferred for each category.
Dr Windsor Holden, panel judge and principal analyst at juniper Research says, "3 Italia remains the leading DVB-H operator worldwide. Its mobile TV service has had a positive impact on ARPU, with an ARPU for mobile TV subscribers around 60% higher than the Italian market average. It has undoubtedly been the trailblazer as far as European mobile TV services are concerned, and - considering the difficulties that other mobile pay TV services have encountered - has arguably set the standard for others to follow."
In each category a gold and silver award is given for contribution to the market, the silver award winner for the mobile TV category was KDDI.
Vincenzo Novari, CEO of 3 Italy said: "We are extremely pleased to receive the Future Mobile Gold Award from Juniper Research, as we consider it a significant recognition of our ability in the area of innovative business model development. Our commitment to this continues while we work towards becoming an integrated fixed-mobile publisher in the future digital TV arena. Today we're improving our offer, not just by building the platform for DTT and DVB-H, but also through the creation of mobile specific formats with a high level of interactivity"
3 Italia, the Hutchison Whampoa Group's Mobile Media Company, is now the leader of the UMTS market in Italy - with over 8 million customers - thanks to a wide offer of multimedia, video communication and internet services, in addition to entertainment, music, information, cinema, sport and Mobile TV. For information, please visit http://www.tre.it, http://www.la3tv.it, http://www.3xseries.it and http://www.3skypephone.com
For further information on the awards please visit http://www.juniperresearch.com/futuremobileawards.htm or contact John Levett at telephone +44(0)1256 830002. Juniper Research provides research and analytical services to the global hi-tech communications sector, providing consultancy, analyst reports and industry commentary.
###