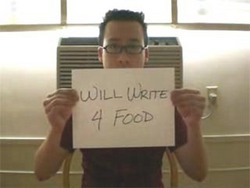 We had a lot of fun with this contest and I think it showed people that student loans and student loan consolidation doesn't have to be intimidating. So many students and graduates are under incredible stress about their student loan bills, but there are plenty of simple ways to manage student loan debt without a lot of hassle
La Jolla, CA (PRWEB) February 6, 2008
Last November, student loan lender ScholarPoint Financial announced a contest to give away $5,000 to one lucky YouTube video publisher. To qualify, contestants were asked to create a 60-second video using one or more of the three terms in ScholarPoint's slogan that describe the company's online student loan application process: Simple, Instant, Complete.
Today, ScholarPoint announced the winner of the contest as Prince Gomolvilas for his video "College and Its Consequences." In this humorous video, Prince talks about how he failed to heed his parent's advice of becoming a doctor or a lawyer in exchange for a career as a writer and as a result, is now saddled with $30,000 in unpaid student loans.
Prince's winning YouTube video can viewed at: http://www.youtube.com/watch?v=2yktx6O0JxM.
The finalist of the contest was determined by the YouTube viewing audience who cast their votes in the form of positive comments for their favorite video. With 57 favorable comments on his video submission, Price's video moved into the finals round where it was chosen as the winner by ScholarPoint judges based on a 5-point scoring system.
Prince may pay off some of his student loan debt with his $5,000 winnings, but for now he says that his first priority is to purchase a new pair of Ben Sherman shoes.
More about Prince's reaction to winning the $5,000 in cash can be found on the ScholarPoint student loan blog.
"We had a lot of fun with this contest and I think it showed people that student loans and student loan consolidation doesn't have to be intimidating. So many students and graduates are under incredible stress about their student loan bills, but there are plenty of simple ways to manage student loan debt without a lot of hassle," says Chris Studer, CEO of ScholarPoint (http://www.scholarpoint.com).
About ScholarPoint: ScholarPoint Financial, Inc. is a national online consumer lending company specializing in student loans and offering a full range of innovative education finance solutions. Loan options for students and their families include PLUS, Stafford, Consolidation and Private Loans. ScholarPoint combines industry-leading borrower benefits, best-in-class service and innovative technology. Unlike many other traditional loan sites, ScholarPoint's technology platform was designed exclusively for its website, integrating the entire process for an online experience that is simple, instant and complete.
# # #