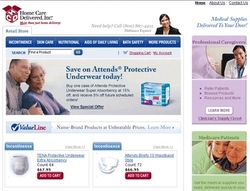 Glen Allen, VA (PRWEB) February 7, 2008
The graying of America is changing the face of family caregiving. With a direct correlation to the aging Baby Boomer generation in America, the demands of family caregiving are growing. Fully understanding the needs of supporting the family caregiver, Home Care Delivered proudly announces, as part of their Retail Pledge, new enhancements designed to simplify the life of a family caregiver through an easy-to-use ordering process for home health care supplies.
Gordy Fox, Founder and CEO of Home Care Delivered, founded Home Care Delivered because of his own experience with family members aging and living with chronic medical conditions. Fox realized that it was difficult for family caregivers to obtain the necessary information and supplies needed to properly follow a physician's treatment plan. In 1996, Fox founded Home Care Delivered with a vision to build a company where the compassion level is high and the home delivery of products is efficient and hassle-free. Today, Home Care Delivered and HomeCareDelivered.com, fully support Retail Customers, Medicare patients, and Professional Caregivers.
To better assist customers and support the family caregiver, Home Care Delivered offers easy online enrollment for many of their patient supply programs. Home Care Delivered's Retail Pledge lets customers choose from thousands of brand name home health care supplies including adult incontinence products. Retail Customers benefit from the savings and convenience of supply management through the Frequent Buyer Program. Home Care Delivered has designed the Frequent Buyer Program to allow family caregivers and patients to save on scheduled orders while no longer worrying about the reordering process. Customers can set up recurring orders that will automatically ship at the frequency they desire. Members receive 5% off all scheduled orders, which can be modified or paused at any time.
With simple online enrollment, the Medicare Patient program includes home delivery of ostomy, wound care, urological, and diabetes testing supplies for qualified Medicare beneficiaries. Once a patient enrolls online, a Patient Care Specialist will call to provide any needed assistance to the patient or family caregiver through the enrollment process. Patients will receive their supplies in 1-2 business days.
Dedicated to supporting the family caregiver, Home Care Delivered is more than a supply company. Home Care Delivered understands that caring for aging relatives in the home can be challenging; therefore, they make getting the supplies needed as fast and easy as possible. In addition to supplies, Home Care Delivered also provides caregiving resources and support, such as online education tools and Registered Nurses on Staff to assist with product usage questions.
For more information on the graying of America or Home Care Delivered's vast line of home health care supplies, please visit HomeCareDelivered.com.
About Home Care Delivered, Inc:
Home Care Delivered, Inc. has been providing quality, name brand home health care supplies and compassionate support since 1996. The staff at Home Care Delivered works to connect the disparate pieces of the home care maze for thousands of patients. The staff coordinates referral sources and payers, obtains medical documentation, provides smooth, hassle-free claims processing, and makes a positive impact on the lives of thousands every day.
###