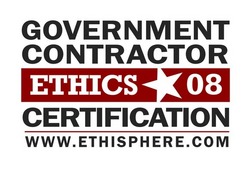 From the private security contractor shooting incident to fuel contractors accepting bribes, ethical matters continue to emerge around the globe that affect both our government and country
New York (PRWEB) February 6, 2008
The Ethisphere Institute, a think-tank dedicated to the research and promotion of best practices in business ethics and compliance, is wrapping up research of government contractors for its anticipated Government Contractor Ethics Program Ratings and Rankings, which will appear in the Q1 issue of Ethisphere Magazine. The Institute is accepting voluntary submissions and participation through February 15th.
"From the private security contractor shooting incident to fuel contractors accepting bribes, ethical matters continue to emerge around the globe that affect both our government and country," says Greg Esposito, director of government contractor ethics research for Ethisphere Institute "With this ranking, we are looking to highlight those companies taking proactive measures to remain ethical."
The ratings and ranking, which take into account new Federal Acquisition Regulation (FAR) rules regarding U.S. government contractors' ethics programs, key FSG "hallmarks" for effective compliance programs and industry best practices, have attracted participation from major government contractors. The Ethisphere Institute would like to commend the following contractors for their support, leadership and active participation in this initiative:

Lockheed Martin
Fluor
BMC Software
Xerox
Avaya
Elbit Systems
Honeywell
United Space Alliance
Kratos Defense
EDS Inc.
CACI
Mantech International
Arinc
As part of this research initiative Ethisphere analysts researched and contacted over 1,500 contractors based on their total contract value for 2006.
The rankings are based on the companies' ethics programs, which have been reviewed through an online questionnaire, along with information voluntarily provided by the participants.
The methodology for the initiative has been reviewed by the Government Contracting Ethics and Compliance Methodology Committee. This committee is comprised of leading experts from the legal profession, government procurement, and corporate and academic institutions including:
Traci Melvin, Deputy Director, NIH Ethics Office
David Laufman, Partner, Kelley Drye Collier Shannon LLP
Kathleen M. Hamann, Vice-Chair, Anti-Corruption Initiatives & Compliance Issues Committee, American Bar Association
Steven G. Churchwell, Government Affairs practice group Partner, DLA Piper LLP
All information will remain confidential and the specifics about companies' ethics programs will not be released to the public or shared with the methodology Committee; only an aggregate score between 1 and 100 will be published. More information about the methodology can be found at http://www.ethisphere.com.
"The media is continually focusing on government contractors and their wrongdoings. We want to put the focus on what these companies are doing right by looking at the programs they are putting in place to keep their business practices ethical," says Esposito.
About The Ethisphere Institute:
The Ethisphere Institute, with the support of its keystone partners LexisNexis, the Practising Law Institute, Red Flag Group, the National Association of Corporate Directors, Trace International, the Global Reporting Initiative, Corpedia, and associated membership group, the Ethisphere Council, was founded in 2006. Dedicated to the research, creation, and sharing of best practices in business ethics, compliance, sustainability, and corporate governance and citizenship, the Council is comprised of over 200 institutions and corporations, including Deutsche Telekom, Time Warner, Avaya and Kraft. Ethisphere Magazine is the quarterly publication of the Institute, created to illuminate the important correlation between ethics and profits. The motto of the Institute is "Good. Smart. Business. Profit." and more information on membership can be found at http://www.ethisphere.com.
###