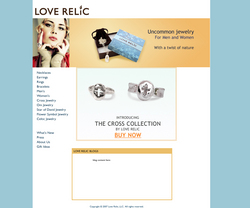 Bellevue, WA (PRWEB) February 7, 2008
LoveRelic.com, the popular celebrity jewelry site, launches the first of its designer jewelry collections with the Cross Jewelry Collection featuring cross rings for Valentines Day. The designer jewelry company reignited its jewelry collection in 2007, after a four year sabbatical as its designer, Jill Brahms, took time off to raise her family. Previously, Ms. Brahms' designer silver jewelry was featured on the cover of Maxim magazine, has been worn by numerous celebrities, and has been sold in high-end luxury retail stores such as Saks Fifth Avenue, Jennifer Kaufman, and Neiman Marcus.
Jill Brahms stated, "My passion for designing jewelry is captured in every piece, and this time we wanted to bring our organic design to symbolic jewelry. We worked very hard to design the right product line and we are launching with a special collection of cross rings. We chose a cross ring to show the commitment and intimacy that lovers have, and what Valentines Day represents. We designed the silver cross in an organic style that represents the authentic spiritual connection we all want to experience."
Ms. Brahms continued, "Cross jewelry was not well represented in the rings category, and often silver jewelry designers focus more on the pendants and earrings. We felt that the Cross Ring, and wearing a cross on your finger, represents the closest connection that an individual can feel, similar to a wedding ring. It also serves as a reminder, as people frequently look at their hands throughout the day."
LoveRelic.com utilizes a unique marketing strategy with its blog, which reports on the latest celebrity jewelry trends and features a hefty amount of photos featuring celebrities wearing jewelry. The response from the end users visiting and requesting more information regarding the jewelry worn by the featured celebrities validates the blog and online marketing strategy of LoveRelic.com. Its marketing and product team work closely on all content, and plan to only sell the products online, in an effort to keep the cost lower for customers and still maintain the highest quality product.
About LoveRelic.com & LoveRelic.com:
LoveRelic LLC is privately held company that designs and manufactures designer jewelry. The company has global design and production facilities and does most of its business via the internet. LoveRelic.com is headquartered in Bellevue, Washington.
###