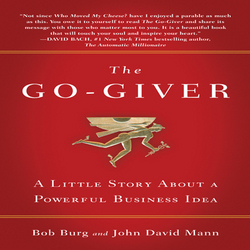 This terrific book wonderfully illuminates [the] principles of contribution, abundance, service and success.
New York, NY (PRWEB) February 6, 2008
Gildan audio, a division of Gildan Media, today announces the release of the acclaimed new audio book Bestseller The Go-Giver, exclusively available at http://www.audible.com and iTunes audiobook store.
Highly recommended by recognized leaders in both the business and personal development communities, The Go-Giver tells the story of an ambitious young man named Joe who yearns for success. Joe is a true go-getter, though sometimes he feels as if the harder and faster he works, the further away his goals seem to be. And so, one day, desperate to land a key sale at the end of a bad quarter, he seeks advice from the enigmatic Pindar, a legendary consultant referred to by his many devotees simply as the Chairman.
Over the next week, Pindar introduces Joe to a series of "go-givers": a restaurateur, a CEO, a financial adviser, a real-estate broker, and the "Connector", who brought them all together. Pindar's friends share with Joe the Five Laws of Stratospheric Success. Since its release on January 2, 2008, The Go-Giver hardcover book (published by Penguin Group) has reached top ten status on both Amazon.com's and The Wall Street Journal's bestseller lists and has sold foreign language rights for editions in Portuguese, Korean, Japanese, Turkish, Chinese and French.
"Every now and then a book comes along that says exactly what the world needs to hear at that precise moment. The Go-Giver is one of these rare books." -- Kendra Todd, winner, The Apprentice 3
"These five simple principles will help you achieve your goals and fulfill your dreams!" -- Brian Tracy, author, The Psychology of Achievement
"This terrific book wonderfully illuminates [the] principles of contribution, abundance, service and success." -- Stephen M. R. Covey, author, The Speed of Trust
"At the heart of The Go-Giver is a philosophy -- actually, a way of being -- that will dramatically increase your business, enrich your life, and make an extraordinary mark on the world around you." -- Gary Keller, founder and chairman of the board, Keller Williams Realty, International, and bestselling author, The Millionaire Real Estate Agent
Bob Burg is a highly sought-after speaker who teaches the principles at the core of The Go-Giver to audiences worldwide. A former top sales professional, he is also the author of Endless Referrals. He lives in Florida.
John David Mann has been writing about business, leadership, and the laws of success for more than twenty years. He is the author of The Zen of MLM and coauthor of You Call the Shots and A Deadly Misunderstanding. He lives in Massachusetts.
For more information, visit http://www.TheGoGiver.com
The Go-Giver: A Little Story About a Powerful Business Idea (Unabridged)
Author: Bob Burg and John David Mann
Format: Audio Digital 2 hours and 23 minutes
Price: $14.98 (US)
ISBN: 1-59659-1-7
Published by Gildan Media Corp. This audio title will be available on CDs next August at all fine book retailers Barnes and Nobles, Borders, on-line and Amazon.
Gildan Audio is a division of Gildan Media Corporation, a multimedia publisher of audio books and books. Gildan Audio titles are distributed to the trade by Hachette Book Group USA. More about Gildan Media can be found at http://www.GildanMedia.com
Gildan Media is also offering this month at http://www.audible.com: Think and Grow Rich, Fooled By Randomness and the acclaimed new Biography of Andrew Carnegie by David Nasaw.
Look for the following latest new releases on CDs: The Passion Test, Me Inc and Book Yourself Solid at your favorite bookstore or on-line at Amazon.
Your Coach in a Box is a line of personal development audio books from Gildan Audio that bring bestselling authors and lecturers directly to you, at the best prices around.
Please visit http://www.gd.simpleology.com for a special offer.
###