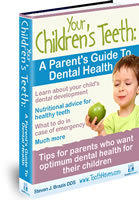 Your Children's Teeth: A Parent's Guide To Dental Health
Sacramento, CA (PRWEB) February 6, 2008
When we bring our children into the world, we want so much for them. We want them to have rich fulfilled lives and all the happiness they can find. We want them to be healthy.
Unfortunately, dental health for their children eludes many parents because it requires such a daily application hygiene principles. Sometimes parents aren't aware themselves of all the factors pertaining to dental health and sometimes, even if they are, it is difficult to get children to follow through with healthy habits.
Steven J. Brazis DDS has written a new book, "Your Children's Teeth: A Parent's Guide To Dental Health". In his book, Dr. Brazis answers the many questions put to him over his 35 years of dental practice by parents wanting to know if their children's teeth are developing normally and what they can do to help.
The book clearly outlines the growth and development of the jaws and the eruption pattern of the primary as well as permanent teeth. There are sections on proper tooth care from before birth to the teenage years. There is information on dental care products, good and bad habits and what to do about them, and how to prepare your child for their first dental visit.
This book is a "must have" for any parent of a newborn child to teenagers. It is invaluable for expecting parents. It is a great gift for friends or relatives who are parents or expecting to be parents. It is an excellent book for teachers or others who come into regular contact with children.
The book is delivered in a digital format and can be purchased at http://www.yourchildrensteeth.com. The book is only $29 and, if you act now, there are bonus reports and helpful brushing guides included. One report, from the National Institute on Drug Abuse For Teens tells parents how to watch for signs of abuse in their children.
Order now at http://www.yourchildrensteeth.com.
Contact Dr. Brazis at sjbrazis@toothhaven.com or visit his web site: http://www.toothhaven.com.
# # #