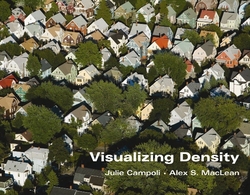 Cambridge, MA (Vocus) February 6, 2008 -–
Visualizing Density, the Lincoln Institute book by landscape architect and land planner Julie Campoli and pilot and aerial photographer Alex S. MacLean, has been named by Choice magazine as an Outstanding Academic Title of 2007 and by the online journal Planetizen as one of the Top 10 Books for 2008. The book, which chronicles different densities in development and cities across the U.S., was also named a winner in the 51st Annual New England Book Show.
Choice magazine, a publication of the Association of College and Research Libraries, a division of the American Library Association, chose 646 books and electronic resources from 7,000 titles for its list, based on overall excellence in presentation and scholarship; importance relative to other literature in the field; distinction as a first treatment of a subject; originality; and value to undergraduates and undergraduate library collections. The list is in the January issue of Choice magazine and online at the American Library Association.
Planetizen, the online journal and planning news aggregator, chose Visualizing Density for its Top 10 Books of 2008 list based on editorial reviews, sales rankings, popularity, Planetizen reader nominations, number of references, recommendations from experts, and the book's potential impact on the urban planning, development and design professions.
Two other Lincoln Institute authors were included on the Planetizen list: Armando Carbonell, senior fellow and chair of the Department of Planning and Urban Form, for his contribution to Smart Growth in a Changing World (University of Chicago Press); and Patrick Condon, a visiting fellow at the Lincoln Institute, author of Design Charettes for Sustainable Communities (Island Press).
Visualizing Density (2007 / 160 pp / Paper / $39.95 including CD / ISBN 978-1-55844-171-2), includes an essay on the density challenge facing the United States, an illustrated manual on planning and designing for "good" density, and a photographic catalog noting density in housing units per acre for more than 250 neighborhoods.
Four photographs of each location are included—close-up, context, neighborhood, and plan views. This "density catalog" is also on an accompanying CD intended for educational purposes.
Design professionals frequently face public opposition to density in development projects. The book was a popular item at the Congress for the New Urbanism meeting in Philadelphia last May, and a session based on the book is planned for the Congress for the New Urbanism XVI in Austin in April this year.
Visualizing Density can be ordered at http://www.lincolninst.edu; a Visualizing Density page in the Resources and Tools section features additional material. The Lincoln Institute of Land Policy, a think-tank based in Cambridge, Mass., sponsors research, training, conferences, and demonstration projects on land use, urban planning, and tax policy as it relates to land. The Publications catalog lists books, policy focus reports, films, and CDs; E-books are also online.
###