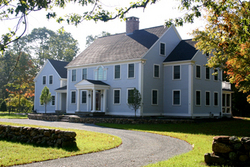 Over the last twenty years, modular homes have come a long way from being cookie-cutter ranches. There are so many more options now,'' says Dave Wrocklage.
Farmington, CT (PRWEB) February 7, 2008
Modular housing used to be associated with inferior construction quality, but this myth has changed over the past two decades. Now, there are several hundred modular (or systems built companies) blanketing the United States, offering extraordinary quality custom homes.
Builders looking for a different twist and a new outlook on this soft market are going modular. "Modular building offers you the chance to purchase a high-quality home customized to fit your tastes, lifestyle, and budget," says Chris Bailey, director of marketing and sales for HandCrafted Homes in Henderson, NC. Bailey also ads that "Showing builders the construction process is one approach, but showing them how the system actually goes together and looks once it is completed is awe-inspiring. We want builders to understand that modular homes can be custom-designed. This is an option that will save a lot of money and time… and who doesn't want that?"
"The word is getting out!" says Dave Wrocklage of Epoch Homes, Pembroke, NH. "Modular homes are in many ways superior to stick-built homes, and, once assembled, cannot be distinguished from their traditionally built counterpart." Wrocklage goes on to say, "Modular homes have been ahead of the green trend for years. Not only are they efficient on heating and cooling, but also there is less material waste, due to computer-aided cuts, that allow the homes to be much more environmentally friendly."
There are misconceptions that keep consumers and builders from considering this option as a form of building. In some towns and cities, city planners have added major regulations and boundaries to building codes restricting modulars, primarily due to the outdated belief that a modular home equals a mobile home. However, across the country, city planners in the know have embraced the concept because of the myriad of benefits that modular building provides.
Modular homes (also referred to as systems built housing) takes advantage of modern machinery, computer and factory technology to create a code-compliant home. These systems built homes use prefabricated materials, built in a climate-controlled environment and designed to work as a precise system, to complete the home.
When builders and consumers realize the benefits of systems built housing, they realize it's a no-brainer. Most building systems offer a reduced construction time, allowing for quicker completion and move-in. Systems building also offers more cost control during the construction process and a high degree of energy efficiency.
"Over the last twenty years, modular homes have come a long way from being cookie-cutter ranches. There are so many more options now,'' says Dave Wrocklage. "One of our builders recently completed a 6,000 sq. Ft. Waterfront home on exclusive Governor's -island on Lake Winnipesaukee in New Hampshire. They can be custom-built to any size -- from the smallest little ranch to the hugest multimillion-dollar mansions.''
So, the next time you think modular, don't think mobile, think efficient, custom, environmentally and budget-friendly, and most importantly - just plain good-looking.
NAHB's Building Systems Councils, part of the National Association of Home Builders, represents the producers, builders, and vendors of the modular industry, as well as other systems built homes including concrete, log and panelized.
Contact info: Jeremy Bertrand
Executive Director, Building Systems Councils
National Association of Home Builders
1201 15th Street, NW
Washington, DC 20005
Ph: 202-266-8353
Toll Free: 800-368-5242, ext. 8353
###