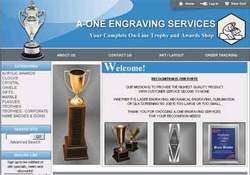 We realize the only reason we are here is because of our customers
Dallas, TX (PRWEB) February 7, 2008
Four months ago, A-One Engraving Services underwent an overhaul of their web design and online services. The result has been increased customer satisfaction and positive reviews from customers and industry professionals alike. Along with the new look and increased usability of the website, viewable at AOneEngraving.com, the company continues to add the newest crystal trophies and engraved acrylic awards and other corporate promotion items.
A-One Engraving Services is both a brick and mortar operation in Dallas, Texas and an online store serving clients worldwide. The company offers corporate awards from inexpensive to high end, including plaques, engraved acrylic awards, crystal trophies and other gifts as well as a large selection of advertising specialty items. In addition to this, A-One does all kinds of engraving, from name badges and name plates to control panels. The company has been in the business since 1989, and has managed to succeed in the competitive market by constantly keeping up with the newest advancements in technology and current trends in corporate and other types of awards.
"We realize the only reason we are here is because of our customers," said owner Robert J. Monette, who has been in the engraving business since 1986. This commitment to customer service led to the site redesign, which in turn increased the usability of the website's ecommerce features.
Creating custom pieces is one of the functions that set A-One Engraving apart from its competitors. Company art can be submitted through the website, allowing for the creation of uniquely branded advertising and award items. This is the area of service that A-One Engraving's owner is most proud of.
He added, "To the recipient, the award represents an achievement, and we do our best to make it something they are proud to display." Corporate logos can even be engraved on crystal, acrylic awards and brass trophies, as long as the artwork is submitted in a common image file format through the website.
To learn more about the company's offerings or to see the redesigned website, visit AOneEngraving.com.
About A-One Engraving Services:
A-One Engraving Services began business in the late eighties in Dallas, Texas. Their brick and mortar operation serves the Dallas-Ft. Worth area, and their online operation has clients all over the United States. A-One has the latest computerized laser and mechanical equipment, all used by a talented and knowledgeable engraving staff. The company offers a wide variety of plaques, acrylic awards, crystal, gifts, and more, and the enthusiastic sales staff is available to assist customers by phone, fax, and online.
###