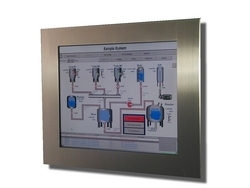 Poway, California (PRWEB) February 9, 2008
Core Systems, a premier industrial computer manufacture located in Poway CA now offers its new MP21-STN NEMA 4X 21" Panel Mount Industrial Touch Screen LCD which has been designed to provide the industrial user with 1600 X 1200 picture quality and state-of-the-art features housed in a rugged industrial enclosure which will assure reliable operation in most factory environments.
The MP21-STN is equipped with video connections VGA, Digital Video (DVI), S-Video,Composite inputs and Analog USB and serial Resisitve Touchscreen.
Suggest Retail Price for the MP21-STN is an attractive $3665.00
Features of the MP21-STN
21" active-matrix LCD display
1600 x 1200 resolution High brightness, ultra-high contrast (900:1)
NEMA 4 / 4X / 12
Tempered glass, anti-reflective window
Only 2.2" deep (behind panel)
Panel mount capable without drilling stud holes
Analog USB and serial Resisitve Touchscreen
VGA, Digital Video (DVI), S-Video, and Composite inputs
Display
Thin-film transistor (TFT) Active Matrix Liquid Crystal
Size - 21.3" diagonal
Image Size - 17.00" (432mm) W x 12.75" (324mm) H
Native resolution - UXGA (1600 x 1200)
Plug and Play - DDC1/2B compatible
Min. resolution - VGA (640 x 480)
Pixel pitch - 0.27mm x 0.27mm
Number of colors - 16,581,375 (24 bit)
Viewing Angle (Hori/Vert) - 170%uFFFD / 170%uFFFD, typical
Brightness - (white) 300 nits (cd/m2), typical
Contrast Ratio - 900:1 (typical)
Back light - Six CCFTs (Cold Cathode Fluorescent Tube); 50,000 hrs. half-life; replaceable
Input connector - HD-15, DVI digital, S-Video, Composite RCA
Input signal format - Analog RGB signals, DVI Analog/Digital, CVBS, S-
Video
Horizontal scan - 30 kHz - 81 kHz
Vertical scan - 56 Hz - 75 Hz
Supported Video Standards - Std VGA - 640x480 @ 60Hz, SVGA - 800x600 @ 60Hz, XGA - 1024x768 @ 60Hz, SXGA - 1280x1024 @60Hz; UXGA - 1600 x 1200 (native mode)
Response rate (typical) - 8 ms typical
Electrical Power adapter - input 85-132VAC / 170-265VAC, 47-63Hz
Power Consumption - 63 watts, maximum
Power Management - DPMS/energy star, 2W
Enclosure
Type - Panel mount; rear collar compresses gasket against panel, held by 14 10-32 studs
Panel rating - NEMA 4/12 or NEMA 4/4X/12
Stainless Steel faceplate
Environmental
Temperature - 0 to 50%uFFFDC
Humidity - 10% to 90% non-condensing
Shock - 30g (1/2 sine, 11 msec.)
Vibration 0.006 inch p-p 15-57Hz, 1.0g 57-640Hz sine
Altitude - Operating: up to 10,000 feet; Non-operating: up to 40,000 feet
Functional
Panel controls (rear access) - Power, Menu, , -, Enter, Auto, PIP
OSD (On Screen Display) controls - input source, picture adjust, auto adjustment, PIP, color adjust, setup, language
Physical
Depth - 2.2" behind panel maximum
Bezel:Stainless Steel
Front bezel outside dimensions - 22.28" (566mm) W x 17.87" (454mm) H x 0.28" (7mm) thick (not including gasket)
Cutout dimensions - 21.13" (537mm) W x 16.70" (424mm) H ; /- .020"
Net Weight %uFFFD 24.40 lbs.
Shipping Weight - 38 lbs.
Core Systems is a premier provider of complete integrated systems for the Industrial, Embedded, Military and Communications marketplaces. Core Systems also supplies a large line of off the self and custom integrated enclosures and displays. We design, manufacture and customize open system platforms to meet the demanding requirements of our customers' programs, using both standard and enhanced Commercial off-the-shelf (COTS) technology.
Core Systems
13000 Danielson St. Suite Q,
Poway, CA 92064
858-391-1006 Office
858-391-0109 Fax
http://www.coresystemsusa.com
###