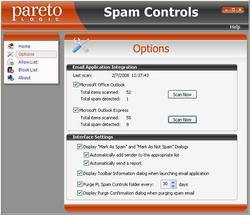 One of the key goals at ParetoLogic is to eliminate the number of false positives in our products. Our unique spam pattern classification technology combined with our crack Quality Assurance team's exhaustive testing, has ensured that legitimate emails are not being blocked
Victoria, BC (PRWEB) February 9, 2008
In the wake of the recent announcements of interest rate cuts by the US Federal Reserve, many people are being inundated with mortgage-related spam from companies trying to take advantage of the latest economic swing. Spam concerned with mortgage refinancing jumped to 10% of all spam in the past week. ParetoLogic's spam controls software can provide a solution.
With finance-related spam expected to increase even higher in the weeks to come, it is an important reminder to make sure that you are equipped with the proper software to avoid a bombardment of spam as well as other complications.
Another concern with the flooding of mortgage-related spam is the potential problem of legitimate financial emails being blocked by over-aggressive, poorly developed anti-spam filters. This is what is known as a false positive. ParetoLogic's spam controls provides a best in breed product that is tirelessly tested by our Quality Assurance team to eliminate false positives and other related issues.
"One of the key goals at ParetoLogic is to eliminate the number of false positives in our products. Our unique spam pattern classification technology combined with our crack Quality Assurance team's exhaustive testing, has ensured that legitimate emails are not being blocked," said Director of Communications, Amanda Cooper.
ParetoLogic's Spam Controls uses modern technology and methods to detect and quarantine spam. The software can be used on Outlook or Outlook Express and boasts one of the highest detection rates in the industry, and unlike traditional spam filters, is able to detect spam that is disguised in graphics and html formats.
Rather than relying on keyword and lexical analysis like other anti-spam applications, ParetoLogic Spam Controls employs an advanced spam pattern classification to identify spam. This innovation reduces the number of messages incorrectly labeled as spam.
About ParetoLogic:
In 2004 four brothers recognized that modern computer users need not rely on computer repair technicians to maintain their own PC's. Knowing that sophisticated technology married with a truly user-friendly interface would empower people to secure and optimize their own computers, the brothers researched the marketplace to define and develop the software products that would most benefit today's computer user.
ParetoLogic now employs 105 professionals to help them research, develop, and market software applications that will enable people to secure and enhance their computing experience. Available in eight languages in 186 countries around the world, ParetoLogic has established partnerships on a global scale to ensure that its products are available to all computer users, regardless of location, language or computing experience.
Attention to the needs of the consumer coupled with a commitment to delivering exceptional software applications and resource-rich websites guarantee that our products will exceed your expectations.
# # #