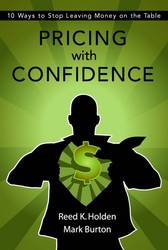 The ROI on this book will be better than any other investment if you make the time to apply the ten rules for pricing with confidence.
Concord, MA (PRWEB) February 12, 2008
Holden Advisors announced today the release of "Pricing With Confidence: 10 Ways to Stop Leaving Money on the Table" (Wiley, February 2008, $29.95, 201 pages), written by co-founders Dr. Reed K. Holden and Mark Burton. The book offers time-tested -- and often surprising -- pricing strategies that senior leadership in sales, marketing, finance, and pricing can use to outperform the competition.
Co-author Reed Holden says, "Mark and I wrote this book after working with clients who struggled to put the pieces of a pricing strategy together. There was no book out there on how cross-functional teams work together to make more profitable pricing decisions. Ours not only offers the how-tos for creating a value-based pricing strategy, but it also lays out who's role pricing is in the company, how to give salespeople total confidence in negotiations with customers, and how to compete with competitors in smart new ways."
With ten simple rules, "Pricing with Confidence" demonstrates how managers can deliver both healthy profit margins and robust revenue growth while kicking the dreaded discounting habit. It's a simple matter of linking the prices you charge to the value you deliver so your company can customize offerings for various types of buyers--and differentiate your products from the competition.
Filled with concrete strategies, time-proven models, and company case examples, "Pricing with Confidence" guides readers in how to create a range of low- to high-value offerings to extract the maximum price from every sales transaction and grow revenue without sacrificing profits. Readers also learn how to:

Kick the habit of discounting prices in order to win customers
Get customers to help you understand the value of your offerings
Create a pricing approach that fits your current business and industry conditions
Learn the best way to price for the three types of customers
Bundle products and services to create pricing leverage for any situation
Teach your sales force and managers to negotiate with value, not price
Help your company transition to a more profitable value-based pricing strategy
Andrew Slusher, Vice President of YRC Worldwide, said of the book, "The ROI on this book will be better than any other investment if you make the time to apply the ten rules for pricing with confidence." Denise Hansard, Director of Pricing for a Fortune 300 Life Sciences company, stated, "Hard questions are being brought up in this book. It really gets to the meat of any situation and offers a solution that is logical and profitable. Whether you are a salesperson, part of the executive team, or working in the pricing department, the ten rules apply to everyone in any company. It is a must read for everyone just to stay ahead of the game and to win."
For more information on the book, please see Pricing With Confidence Book website . The book is also available for sale at Amazon.com and Barnes&Noble.com.
About the Authors
Dr. Reed K. Holden is Founder of Holden Advisors. He consults to senior executives in Fortune 500 companies, and runs targeted sessions with management teams to jump-start change in go-to market strategies to improve profitability. For recent thoughts and comments and an opportunity to speak with Dr. Holden, please see his blog: Reed Holden's blog.
Mark Burton is co-founder, vice president for Holden Advisors. As a formulator of the firm's project methodologies and analytical processes, Mark is the driving force in creating offering and pricing strategies for companies that are forging new markets ahead of the competitive curve. Mark also delivers Pricing with Confidence seminars to sales, marketing and product executives. For recent thoughts and commentary on current business events, please see Mr. Burton's blog: Mark Burton's blog.
About Holden Advisors
Holden Advisors is a pricing strategy consultancy and training firm that works with marketing, sales, pricing, and finance executives to improve clients' offerings, pricing, and sales processes to fuel strong profit and revenue growth. You can read more about Holden Advisors and sign up for Holden's newsletter at Holden Advisor's website.###