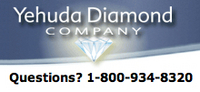 Bigger and brighter are two words no woman has ever objected to hearing
The Diamond District, NY (PRWEB) February 8, 2008
It is the truth that the big online jewelers would much prefer those shopping for jewelry not know.
This Valentine's Day, and everyday, consumers can buy quality, visually stunning natural diamonds and diamond jewelry from a local, respected, expert jeweler for as much as 30% less than the online peddlers charge.
Gentleman can pocket the savings or reinvest them into an even larger, more brilliant stone. Either way, her diamond will be one she'll cherish for a lifetime.
The secret - known to tens of thousands of discerning buyers -- is Yehuda Diamond Company, a family-owned jeweler for three generations that has mastered the science and art of diamond cutting. Yehuda Clarity Enhanced Diamonds are visually identical natural diamonds that actually look better than their same-size counterparts thanks to an enhancement process developed by the company in Israel in 1982.
When light passes through a Yehuda Clarity Enhanced Diamond it is not reflected by the naturally occurring 'feathers' that are present in most diamonds. The result is that diamonds from Yehuda Diamond are more visually stunning than similar non-enhanced diamonds.
"Bigger and brighter are two words no woman has ever objected to hearing," says Dror Yehuda, president and a grandson of the company's founder. "Bigger and brighter also describe the smiles you'll receive every time she wears her Yehuda Diamond."
Unlike online-only retailers who offer "buy it before you ever see it" diamonds, Yehuda Diamonds works exclusively with local retailers who invite customers to come in and personally examine the diamonds - without cost, obligation or pressure.
"The truth is really diamond clear," Mr. Yehuda says. "You can buy a Yehuda Clarity Enhanced Diamond that you've personally inspected from a reliable local jeweler or you can pay much more and take your chances buying from an online peddler who may, or may not, stand behind its jewelry."
All Yehuda Clarity Enhanced Diamonds include a lifetime guarantee, backed by a solid, reputable business.
To learn more about how Yehuda Diamonds stack up against the online peddlers, visit http://www.yehuda.com.
###