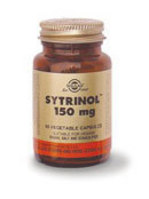 (PRWEB) February 21, 2008
New home cholesterol test kits -- free with Solgar Sytrinol.
Boots Herbal Stores will be offering a professional free home cholesterol test kit with every purchase of Solgar Sytrinol 60 capsules (until stocks last). Test kits can be used easily at home, and will help people to monitor their cholesterol level.
Manage Cholesterol and Heart Health Naturally
Leading global nutrition brand Solgar Vitamin and Herb, are proud to launch Sytrinol, a natural solution to managing heart health and healthy cholesterol levels for greater wellness, from the online store http://www.solgar.co.uk
Sytrinol is a patented proprietary formula based on 12 years of research and numerous scientific clinical studies. Sytrinol is derived from natural citrus and palm fruit extracts.
Clinical results have demonstrated that within only 4 - 12 weeks, Sytrinol can improve total cholesterol levels by 30 percent, LDL cholesterol level up to 27 percent, and triglyceride levels up 34 percent with only 2 vegetable capsules daily. Sytrinol can do all this without the negative effects associated with pharmaceutical drugs. This has been demonstrated in numerous tests comparative with other popular natural supplements. Sytrinol also has numerous heart health benefits including the reduction of arterial plaque, improved blood sugar control and reduced blood platelet aggregation.
Scientific studies have shown Sytrinol to assist with: Cholesterol reduction, Triglyceride reduction, Artery protection,
Potent anti-inflammatory, Potent antioxidant, Blood sugar stabilising, Immune support.
While there are many natural cholesterol improving supplements on the market, Sytrinol has shown repeated success for case-studies wanting to reduce high cholesterol naturally. Sytrinol targets different mechanisms and bio pathways to produce synergistic results for the promotion of lower total cholesterol, LDL cholesterol, and triglyceride levels. Additionally, Sytrinol is a powerful antioxidant with numerous heart health benefits that control anti-inflammatory responses.
Solgar Sytrinol can be bought online from http://www.solgar.co.uk
RRP for Sytrinol -- 30 vegetarian capsules £14.55 and 60 vegetarian capsules £27.95
Cardiovascular disease still continues to be the No. 1 killer in the Western world. CVD is now affecting younger people (as well as the elderly) and yet 30 percent of these young sufferers are in apparent good health and with normal cholesterol levels. Men and women in this group can suffer from sudden heart attacks without having shown any of the usual signs or indicators. New recommendations for healthy cholesterol levels will potentially TRIPLE the number of people prescribed a cholesterol lowering drug -- from 13 million to more than 36 million.
Cardiovascular disease -- Facts and Figures

CVD severely affects the daily lives of 4.4 million people -- one in every 100 citizens
CVD results in 2 million deaths and 126 million hospital bed days per year more people than ever now have been prescribed statin medication for reducing cholesterol.
Statin Drugs -- Facts and Figures

On average 56,000 new prescriptions are written on any given day.
On average 386,372 tablets are distributed per hour.
Information on high cholesterol from http://www.nhsdirect.nhs.uk.
High cholesterol is not a disease in itself, but it is linked to serious conditions, such as cardiovascular conditions (disease of the heart and blood vessels), angina, stroke, and mini stroke, known as transient ischaemic attack (TIA).
A high level of cholesterol in your blood, together with a high level of triglycerides, can increase your risk of developing coronary heart disease.
Mintel reports show a huge growth this year in health products, they say more people than ever will be looking into ways to improve their wellbeing.
Solgar Vitamin & Herb have dedicated over 60 years experience to the research, development and manufacture of supplements for the natural health industry. Solgar is recognised as a trusted brand in over 47 countries. Leading innovation for high quality, award winning and popular natural supplements, for the educated health care consumer.
Boots Herbal Stores was established in the 1930's and now sells Solgar exclusively online from http://www.solgar.co.uk.
# # #