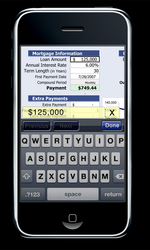 Boston, MA (PRWEB) February 11, 2008
1stWorks, a real-time communications software company with solutions for secure multimedia conferencing, collaboration and content delivery, today announced the immediate availability of PC2ME -- a free version of its Files2Phones software for personal, non-commercial use, a powerful desktop application that enables the iPhone to function as a real time remote control for the desktop computer -- securely and efficiently with password protection.
Control any application on the primary computer display, access documents, presentations, spreadsheets, CAD drawings, even custom applications- any application that can be opened on the desktop can now be launched, viewed, updated and controlled remotely from the iPhone using the iPhone's Safari browser. All display transfers use 1stWorks' patent pending compression technique for maximum efficiency, performance and security.
PC2ME is available now for immediate download, just visit http://www.pc2me.net and get started, it's free for personal, non-commercial use.
To do more then just control and view applications from the iPhone, tasks like securely sending files to other users or launching the webcam on the desktop PC to view the images on the iPhone, consider an easy migration to Files2Phones for only a little more than $8/month.
Want to use Skype to call friends on a WiFi connection rather than pay roaming charges on Edge, especially abroad? Go ahead, display the Skype Contact list on the iPhone, select the person to call, Files2Phones makes the connection.
With Files2Phones, adding camera pictures to the personal online F2P directory is easy too. Take the picture with the iPhone camera, email it to the personal directory and Files2Phones will automatically add the image, in date and time sequence, into the published picture file.
Keep friends in the picture, simply and immediately.
With Files2Phones, all access activity is recorded in a secure log file on the desktop computer, including the name of the file or application accessed and a timestamp as well as the requesting IP address, port and connection type.
Files2Phones is available immediately for download from http://www.f2p.com for a free trial, and licenses can be purchased online for $29.95 for 3 months or $99.95 for a year, with no hidden data or usage charges.
About 1stWorks Corp.
1stWorks Corporation is a real-time software communications company with solutions for secure collaboration, conferencing, and multimedia content delivery -- incorporating its patented data compression technology, Quantized Indexing. Ten thousand customers worldwide in more than 70 countries already use its hotComm software platform. 1stWorks was founded in 2000 by executives from several earlier successful companies and is located near Boston. More information at http://www.1stworks.com.
###