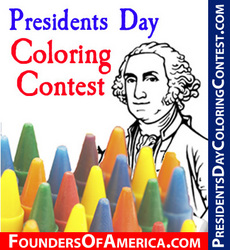 (PRWEB) February 8, 2008
The 2008 Presidents Day Coloring Contest, open to US residents, and of particular interest to students, teachers, and homeschoolers is free to enter. Prizes include the grand prize -- the Gettysburg Address panoramic mural-- comprising three panels and a total of ten feet long, and featuring President Abraham Lincoln superimposed on the historic Gettysburg battlefield.
Free pictures to color can be obtained from the PresidentsDayColoringContest.com website. No purchase is necessary.
You can also get your colored pictures put on a tshirt, mug, or mousepad, for a nominal fee. The contest itself is free, and no purchase is necessary.
Entry form and official rules can be obtained from the PresidentsDayColoringContest.com website.
The contest is held as a public service by the FoundersOfAmerica.com website, which provides Americana and historic American themed art prints, posters, tshirts, and gift items, popular with teachers, students, collectors, and individuals looking for an American patriotic themed print or a piece of Americana or American history for their office wall, home, business or store, or would like an American or patriotic themed tshirt to wear on their daily jog or a for a trip to the beach.
Presidents Day Posters, Tshirts, and Mugs
To make Presidents Day celebrations complete, FoundersOfAmerica also has a complete selection of unique and exclusive Presidents Day posters, tshirts, mugs, and even Presidents Day cards with reproductions of its exlusive line of posters. The Presidents Day Cards, which can be personalized with the name of your school, company, or business, are perfect souvenir handouts.
The Red White and Blue Presidents series -upscale Americana: murals, prints, and posters
The new Red, White, and Blue Presidents series - a collection of images of all Presidents of the United States from 1789 to the present, produced with an upscale modern look suitable for any d from ultra-modern to traditional. It is also available in a mural version, perfect for the boardroom or lobby.
FoundersOfAmerica.com also provides a complete selection of Founding Fathers gift items, and posters, tshirts, and mugs, for a comprehensive selection of special days, including Memorial Day, Constitution Day, Flag Day, July 4th, Veterans Day, and other special days, including Americana and patriotic Tshirts, posters, and mugs.
The archival quality FoundersOfAmerica.com Illustrated History of the US Military posters and prints series goes from the American Revolution through the Civil War, San Juan Hill, First World War, World War II, Korea, the Gulf War, and Iraq, perfect for framing, and ideal for Memorial Day and Veterans. There is also an extensive series of Vietnam Wall and Memorial photos and posters, and Arlginton Cemetary and Tomb of the Unknown Soldier photos and posters.
The FoundersOfAmerica.com September 11th Tribute Prints are images of 9/11, a memorial of September 11th and a reminder to the future.
FoundersOfAmerica.com also has The Supreme Court Gallery, picture portraits of the Chief Justices of the United States, from the first Chief Justice of the United States, Chief Justice John Jay, through Chief Justice John Roberts. Also included are other noted Supreme Court Justices, including Justices Oliver Wendell Holmes, Louis Brandeis, Benjamin Nathan Cardozo, Hugo Black, William Douglas, William Brennan, Thurgood Marshall, and Harry Blackmun.
Other FoundersOfAmerica.com prints and posters deal with Betsy Ross, the Stars and Stripes, and the history of the American Flag, Founding Fathers posters, prints, and Tshirts, including George and Martha Washington, Thomas Jefferson, Benajamin Franklin, Patrick Henry, Alexander Hamilton, Abigail Adams, Abraham Lincoln, and almost all other US Presidents and noted historical figures in US history. The famous Yankee Doodle Spirit of 1776 painting is available as prints, posters, tshirts and mugs - a salute to Archibald Willard.
The FoundersOfAmerica.com Declaration of Independence and Constitutution Gallery presents archival quality prints of the Declaration of Independence, Constitution, and other founding documents, and prints and posters of the writing of the Declaration of Independence and Constitution. The FoundersOfAmerica.com "Freedom Is Not Free" series of posters, tshirts, and mugs, presents the constitution for display in a new light.
The Ronald Reagan photographic tribute and gift series of photogaphic picture poster prints and quotes presents a remembrance of Ronald Reagan in archival quality photographic poster prints, including pictures of President Reagan and quotes, as well as Ronald Reagan gifts such as mahogany desk organizers and keepsake boxes, with pictures and quotes from President Reagan.
Popular for Christmas, FoundersOfAmerica.com exclusive line of patriotic Christmas cards, including George Washington Crossing the Delaware Christmas Cards, the vintage Washington DC in Winter Christmas cards, the vintage America at Christmas and American small town series of Christmas cards, and Views of America Christmas Card series.
Also new is the FoundersOfAmerica.com American Pledge of Allegiance poster prints, cards, t shirts, and mugs series, for school, classroom, home, office, and miltary base, with 50 different posters featuring the United States Pledge of Allegiance on pictures of America from sea to sea, including such Statue of Liberty pictures, Mount Rushmore pictures, bald eagle pictures, and other photographs of other American historic sites, pictures of patritotic places, and military pictures and photos.
With an extensive selection of high quality Americana and patriotic posters, prints, tshirts, mugs, and gift items, FoundersOfAmerica.com can also undertake custom and speciality work, for individuals, businesses, and companies, and supplies corporate, museum, and gift shop needs for historic American and patriotic posters, prints, and gifts.
###