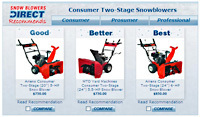 We've been selling power equipment online since 2002. We know what's great. We know what's junk. And, we're not afraid to say so
Bolingbrook, IL (PRWEB) February 11, 2008

It's hard to get an honest, straight-forward product recommendation anymore -- especially when it comes to electric, single stage and two stage snowblowers.
Most snowblower retailers are loyal to the single brand on their shelves, according to Jon Hoch, founder of SnowBlowersDirect.com.
"Guess what? The Ariens dealer is going to recommend Ariens. The MTD dealer is going to recommend MTD. Surprise!" jokes Hoch.
So, how do you truly know how each snowblower model stacks up?
SnowBlowersDirect.com just launched "SBD Recommends" to help shoppers compare the top snow blower brands in 6 different categories:

Electric Snowblowers
Single Stage Snow Blowers
Two Stage Consumer Grade Snow Blowers
Two Stage Prosumer Grade Snow Blowers
Two Stage Professional Grade Snowblowers
Two Stage Professional Grade Snowblowers with Tracks
The recommendations are more than simply ranking snowblowers into electric, single stage and two stage. Everyone already does that, says Hoch.
In addition, they're not just a list of best sellers. Just because it's a best seller doesn't give it "Best-in-Class" status.
The e-tailer combined the sales history, customer reviews and some personal insight to generate their final recommendations.
"We've been selling power equipment online since 2002. We know what's great. We know what's junk. And, we're not afraid to say so," says Hoch.
Once the dust and data settled, only 18 of snow blowers sold by SnowBlowersDirect.com were given the prestigious "SBD Recommends" status.
Click Here to See the Snowblower Recommendations
In addition, Hoch personally wrote online reviews for each snow blower, explaining why the company recommended it.
By providing the recommendations and reviews, SnowBlowersDirect.com hopes to arm shoppers with enough ammunition to pick the perfect snow blower for their needs.
"We're loyal to our customers - not our suppliers," says Hoch. "Our intention is to make the shopping experience as simple as possible. We hope they appreciate our honesty."
Power Equipment Direct operates four niche online superstores. In addition to SnowBlowersDirect.com, the Bolingbrook, IL-based company operates AirCompressorsDirect.com, ElectricGeneratorsDirect.com and PressureWashersDirect.com.
###