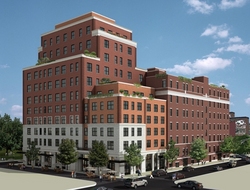 For example, we're restoring a 1920's seven-story former office building on the corner of Erie and Ninth Streets and an 11-story building on McWilliams Place and Pavonia Avenue which are being converted to condominiums and retail space in our initial housing phase.
Jersey City, NJ, (PRWEB) February 11, 2008
Activity remains strong at Hamilton Square, the new mixed-use landmark community being developed on the former site of the St. Francis hospital in downtown Jersey City.
Sales have continued at a steady pace with nearly 20% of the available studio, one-, two-, and three-bedroom residences already sold at the exclusive new neighborhood of 300 condominium, loft, and townhome residences fronting historic Hamilton Park, according to developer Exeter Property Company.
Much of the recent interest is coming from young couples who are delighted to discover the larger homes at Hamilton Square which are ideal for growing families, notes Eric Silverman, a principal of locally-based Exeter Property Company. So much so, the developer is also now allowing buyers to combine and customize residences to further accommodate their needs.
In addition to the sales pace, nearly 100% of the 28,000 square feet of ground floor retail space at Hamilton Square is now leased. Tenants include a wide array of boutique shops and services, such as an Equinox style gym, restaurant and bar, noodle shop, bakery, wine shop, ice cream parlor, bike store, pharmacy and a bank branch.
"We're enjoying tremendous interest from both buyers and retailers who are excited about being a part of one of downtown Jersey City's most desirable new-home communities," says Mr. Silverman. "For buyers, Hamilton Square offers a unique opportunity of residing in exceptionally-designed living spaces within a development that embodies the values and quality of life that have long characterized the Hamilton Park neighborhood."
Designed by Charles Jordan of Manhattan-based H. Thomas O'Hara Architect, PLLC, Hamilton Square incorporates several elements of the property's prior use.
"When completed, Hamilton Square will consist of both an adaptive re-use of existing buildings as well as new construction," Mr. Silverman points out. "For example, we're restoring a 1920's seven-story former office building on the corner of Erie and Ninth Streets and an 11-story building on McWilliams Place and Pavonia Avenue which are being converted to condominiums and retail space in our initial housing phase."
Residences in the first offering of 126 homes at Hamilton Square boast all the attributes that make living in this historic urban neighborhood so unique. Soaring 10-to-15 foot ceilings create open and airy interiors full of natural light, while radiant heated stone bathrooms and custom kitchens enhance the grace and charm of the residences. Homes are priced from the $270,000s to more than $1.3 million.
"Some of the residences also offer private balconies or terraces," indicates Mr. Silverman. "Most apartments boast unobstructed views of the Jersey City or Manhattan Skylines or Hamilton Park."
Five-star amenities will be abundant at Hamilton Square. These include rooftop terraces, outdoor balconies, indoor 60-foot lap pool, courtyards, private lounge, and private membership gym, 24-hour doorman and concierge service, onsite parking and shuttle service to the PATH and ferry terminals.
Hamilton Square is being developed under the guidelines of "green" building practices, an environmentally-sensitive approach to sustainable and responsible new construction development.
The new community will blend in harmoniously with the character and charm of the neighborhood's historic brownstones, classic row houses and stunning park. Part of the plan for the first phase of construction calls for Pavonia Avenue - closed since 1970 - to be reopened as a cobblestone street for pedestrian and vehicular traffic. The new street will also lead to the lobby entrance of one of the residential buildings.
Residents will also appreciate living in the Hamilton Park neighborhood, where a scenic residential ambiance rich in history and urban charm rivals those found in Greenwich Village or the Upper West Side of Manhattan, Mr. Silverman points out. In contrast to many up-and-coming urban centers where new buildings are rising block after block, Hamilton Park has successfully maintained its 'old world' character by carefully blending new construction and modern amenities with the surrounding architecture.
At the heart of it all is the historic two-acre Hamilton Park, an urban oasis which is scheduled to undergo a major multi-million dollar renovation. The recreation and social epicenter offers a gathering place for residents to play tennis and basketball, frolic in the playground, relax in the gazebo, or attend a farmer markets, plays and concerts.
The neighborhood is also just minutes from the delights of downtown Jersey City and Manhattan. The community is easily accessible to a variety of transportation options, including the Hudson-Bergen Light Rail, PATH trains, ferries and express buses into New York City via the nearby Holland Tunnel.
For additional information on Hamilton Square, please call 201-434-1000 or visit http://www.livingonthepark.com.
About the developer:
Exeter Property Company stands at the heart of Jersey City's revitalization. For more than 25 years, the company has been responsible for rehabilitating historic buildings and sensitively constructing newly designed structures. Brothers, Eric and Paul Silverman, attribute their success to their commitment to the community and their ability to craft projects that significantly enhance the community-at-large and mesh with the needs of neighborhoods.
Contact:
Robert Kelly
CAHN Communications
rkelly @ cahncomm.com
201-876-3100
###