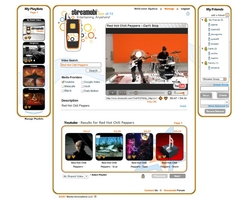 Woodland Hills, CA (PRWEB) February 11, 2008
Manta Innovations is proud to announce the release of its newest product; set to reinvent the way you search and play streaming video on the Internet. As of today, Streamobi v2.13 was released after twelve minor revisions, spanning over nearly ten months of development. Since the beta release of Streamobi on May 3, 2007, we've strictly adhered to our design philosophy of functionality through simplicity and added several new key features to the website, making it easier and more efficient to use. Here is a quick breakdown of Streamobi's key features:
1. Search Multiple Providers -- Although this is one of the founding principles of Streamobi, it's worth mentioning that you can search for videos from all of the web's most popular video websites simultaneously without disturbing any videos that are in the process of playing.
2. Autoplay Managers -- After using our autoplay feature on Streamobi, you'll wonder why you lived without this for so long. After you search for your video and play it, every following video on the provider list will be played in order automatically. This feature is great if you're a music lover because you can search for your favorite artist, click play and let it go. If you decide you want to watch something else, click on another clip and autoplay will pick it up from there. If you want autoplay to continue playing while you do another search, just press the small lock symbol at the bottom of the chosen provider and it will block further searches for that provider until you unlock it.
3. Create/Manage Playlists -- Bookmark all of your favorite videos from any of our providers by adding them to playlists.
4. Quick Manage Tools -- In addition to the normal add/delete video options found on most video websites, we've created quick manage tools which allow you to add or delete videos and playlists just by clicking the add or delete icon in the bottom left hand corner of the video thumbnail. This allows the user to add or remove videos in one step without disturbing a video in the process of playing. We have also included quick share buttons on all providers and playlists for easy sharing of videos and playlists.
5. Friend List -- This is our newest feature in the line-up. Lets say that you see a video that you know your friend will love, normally you have to copy the video address and paste it into an email and send it. With our new friend list, you can simply choose a buddy from your friend list and click the "share" icon on any provider video or playlist. That's it. The video shows up instantly in your friend's "My Shared Videos" playlist for them to watch. No more copying and pasting.
As we continue to strive for the best user experience, you will see a steady addition of new features and providers. Also keep an eye out for the beta version of strea.mobi, which is the mobile incarnation of Streamobi.com; made exclusively for mobile phones. All cell phones with a true mobile browser and flash support will be able to enjoy the benefits of Streamobi anywhere there's a cell tower. This will be released by the end of Q2 of 2008. Thank you for your interest in Streamobi and please be sure to visit us regularly at http://www.streamobi.com as we continue to make your life easier.
###