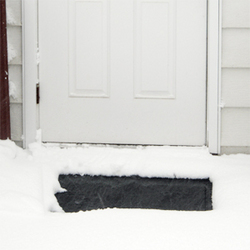 Many home owners are concerned for delivery people when it comes to ice at the front door, but our snow and ice melting mat alleviates that concern
Cleveland, OH (PRWEB) February 11, 2008
Martinson-Nicholls new Greener Heat™ Heated Door Mats prevent snow and ice accumulation without shoveling, chemicals or embedded melting systems.
Developed in conjunction with Indus Tool, the Martinson-Nicholls heated door mat is energy-efficient, using only 240 watts. The 15-foot power cord includes a G.F.C.I., and the mat is E.T.L. approved.
Martinson-Nicholls found that thousands of home accidents occur each year due to snow and ice build up at doorways. "Many home owners are concerned for delivery people when it comes to ice at the front door, but our snow and ice melting mat alleviates that concern" stated Dan Ruminski, president of Martinson-Nicholls.
The Greener Heat electric doormat provides homeowners a way to prevent potentially slippery areas around the house from snow and ice. Designed with an aggressive anti slip surface and beveled edges, this mat is designed with safety in mind. The mat can be used in front of most doors, but also can be used to create ice-free areas in front of outdoor grills, melt snow off hot tub covers or be used as a heated mat in garages to dry wet shoes and boots.
The molded rubber mat features heavy-duty construction that is made to last for years. Weighing over 14 lbs, most winds will not move it. The Greener Heat heated mat will help prevent thick ice build up when properly used. Designed to stay on all winter, the mat may also be used without power in warmer periods, making a very nice entrance mat all year round.
Tested in the snow country of Colorado, the Greener Heat heated mat has saved many wooden decks from damage due to excessive snow build up. Home using the mat often have absentee owners who took great comfort in knowing that their deck was protected even when they were not there.
About Martinson-Nicholls
Martinson-Nicholls, has established itself as a leader in custom floor matting, heated floor mats, and safety solutions over the last 25 years.
Martinson-Nicholls provides the customer with the exact size matting needed--small, large, standard, nonstandard, special shapes and logos. Custom installations are also a specialty of the company.
Anti-slip safety tapes and treads are available in various sizes and textures from hand cut or die cut pieces to full rolls and special shapes. For more information, please visit http://www.floormat.com.
###