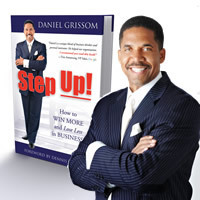 It's time to Step Up!
Atlanta, GA (PRWEB) February 12, 2008
There are three seemingly unstoppable forces, like the 'Perfect Storm' triad, that will leave Black History Month forever different. Each "Step Up" event is powerful on its own, but when combined together, they may jump-start an explosive change for African-Americans.
Force 1 - Senator Obama and his "Step Up Team" are about to take a BIG step up toward the presidency, perhaps becoming the first African American Presidential Candidate to win the primaries.
Force 2 - Daniel Grissom, an African-American who is now one for the most sought-after fortune 500 trainers, is releasing his first major book "Step Up! How to WIN MORE and Lose Less in Business."
Force 3 - The movie, "Step Up 2," is being released, which shows African-Americans, and others, how to work together and overcome the ghetto mentality that has plagued our nation.
Daniel Grissom, a graduate of Michigan State University, who began his career as a Congressional Liaison, sent Senator Obama an advance copy of his "Step Up!" book. While Grissom is un-sure if Obama has read it, Daniel believes that he must have because Obama is using its 6 steps. Grissom says, "Senator Obama is, in my opinion, one of the greatest leaders to come our way and it's obvious that he has gotten his whole team to step up, and soon the whole nation will step up and step forward as it chooses him as the Democratic Presidential Candidate."
Grissom went on to say, "More than any other candidate, Obama is showing all Americans how to raise their standards, conduct superior evaluations, unleash potential and take action in the face of adversity -- that's what Step Up! is all about. Not just in our lifetime, but in Black History month we are witnessing what no other African-Americans have ever seen. Obama is following in the foot steps of Martin Luther King, because he has the ability to incite people to step up and to 'Step Out'...to shed their old way of thinking and to move them from poverty to profitability, from judgment to discernment and from mediocrity to mastery."
"Step Up 2", which is a follow-up to the smash hit "Step Up", will be released February 14th, 2008. It's sending out a message that synchronizes with Obama and Grissom, who are both working to make things better for those in ghetto areas by reaching in and giving them a helping hand of hope, love, and generosity.
Like Obama, Grissom has worked his whole life to bring equity to those less fortunate. Having grown up near the ghetto areas of Detroit, he is well aware of what it takes to make a difference, and that is what he intends to do in every city and town across America. As a part of his book launch, Daniel is donating copies of his book so that at least two copies will be in circulation in every Public Library in the cities of Michigan, where he grew up, and in Georgia, where he now resides.
Grissom helped to establish the "Good Books For Libraries" fund, so he could get his books into every Public Library across the country. He is asking all Americans to help the underprivileged by giving them free access to the kind of books that will improve their lives and give them hope. If you feel the urge to help, he's set up a donation system for you to step up and help him achieve his goal.
This "Step Up" triad might be what it takes to turn over a new leaf for Blacks in America, while sinking once and for all the "we-are-not-good-enough" attitude that has kept so many African Americans from being the true leaders they can become.
As Grissom says, "It's time to Step Up!"
Daniel Grissom regularly speaks at corporate events and is available for interviews.
Contact Daniel Grissom at 312.315.1591
###