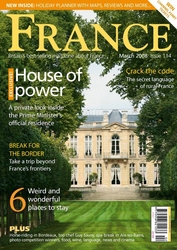 It was a great privilege to see inside Matignon and all its beautifully ornate rooms
(PRWEB) February 12, 2008
At a time when the French president is jealously guarding his privacy, his second in command François Fillon, offered France Magazine exclusive access behind the scenes of the French "Number 10", Hôtel de Matignon in Paris.
France Magazine Editor Carolyn Boyd and photographer Robert Brady were shown around the historic residence by none other than the PM's wife Welsh-born Penelope Fillon. It is the first magazine worldwide to ever feature such a story.
Few people get to see behind the scenes of Matignon, where history is made on a daily basis. The invitation came after France Magazine interviewed Mme Fillon at the family home in Sarthe in north-west France, earlier in the year.
"It was a great privilege to see inside Matignon and all its beautifully ornate rooms," said Carolyn. "The history behind all its previous residents and visitors is fascinating."
Highlights of the tour included:

Stepping inside Fillon's office and seeing his personal photograph collection, including a picture of him and his wife with the Rolling Stones (Mme Fillon's personal favourite) and his six-year-old's drawings on his desk.
Visiting the beautiful gardens, the largest private park in Paris, where employees jog each day and where pets of previous residents have been buried
Hearing how Winston Churchill got stuck in the lift during a visit in the 1950s
Matignon has an intriguing past. Built in 1722 for Charles-Louis de Montmorency Luxembourg, it became home to several dukes, princes, emperors, Louis XVIII, Charles de Gaulle, a community of nuns, and a millionaire American socialite. It was only in 1924 that it became an official political residence.
The full story appears in the March issue of FRANCE Magazine, on sale February 20 priced £3.99. For more information visit http://www.francemag.com or contact the editorial team at editorial@francemag.com or at 01242 216050.
FRANCE Magazine is Britain and North America's best-selling magazine about France and features travel, food and wine, language tips, French cinema and interviews. Editor, Carolyn Boyd, is available for interview on all matters concerning French travel, food and wine, language learning and celebrity interviews.
###