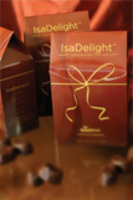 It complements our nutritional cleansing systems and can be used everyday as a guilt-free indulgence.
Chandler, AZ (PRWEB) February 13, 2008
You may have heard the sweet news that dark chocolate contains a high amount of good-for-you antioxidants. Now Isagenix®, the world leader in nutritional cleansing, has improved nature's most delicious superfood with IsaDelight™**.
This powerful new treat is packed with feel-good vitamins, minerals and a unique blend of amino acids. IsaDelight™ enhances the health benefits of chocolate and helps to lift mood*, promote brain and heart health*, improve energy and satisfy cravings.*
"Isagenix is the first company to come out with a tasty chocolate supplement fortified with brain-healthy* nutrients," says Paul Anderson, M.D., D.A.P.M. and a developer of IsaDelight™. "It gives our brain the nutrients it needs and helps to elevate mood and curb food cravings.*"
The antioxidants in dark chocolate help protect the body from damaging free radicals* that lead to poorer health. Dark chocolate also helps maintain healthy blood flow to the heart and brain.* While chocolate is usually associated with high amounts of sugar and calories, each IsaDelight™ supplement is low in both.
"The launch of IsaDelight™ is exciting for Isagenix as it offers some of the greatest health and wellness benefits in a tasty, chocolate supplement and is unlike anything else on the market," says Isagenix President and CEO Jim Coover. "It complements our nutritional cleansing systems and can be used everyday as a guilt-free indulgence."
IsaDelight™ can be purchased through an Isagenix Independent Associate.
*These statements have not been evaluated by the Food and Drug Administration. This product is not intended to diagnose, treat, cure or prevent any disease.
**Caution: Keep this and all supplements out of reach of children. If you are pregnant, nursing, or under medical supervision you should consult your physician before using this or any other dietary supplement. PHENYLKETONURICS: contains Phenylalanine and other amino acids. Contains milk and soy. Discontinue use if allergic reaction takes place.
###