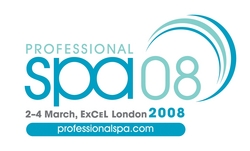 London, UK (PRWEB) February 12, 2008
The London International Spa Convention 2008, held alongside the Professional Spa Exhibition, is the leading symposium on the spa industry and attracts some of the biggest names in this booming sector.
London's International Spa Convention, March 2nd-4th 2008 is global in its view and attracts visitors from all over the world each year. Its speakers have been hand-picked to deliver a comprehensive programme designed specifically to advance the international spa market in this changing economic climate.
Hear from spa owners, CEOs, directors and senior managers who are influencing and leading developments within the industry. The International Spa Convention also allows opportunity to network with hundreds of spa owners, investors, retailers, hoteliers, designers, architects and consultants, all with one aim, to grow the spa industry globally and domestically.
For 2008 the convention aims to tackle some of this sector's most pressing issues. Sunday 2nd March sees the Convention 'separating the fad from the trend'. Kevin Turnball, CEO of Spa Finder Europe reports on the state of the global spa market, with Wendy Cocchia, founder of the Absolute Spa in Vancouver explaining the lengths it takes to become a truly renowned destination spa. Andrew Gibson, Group Director of Spa for the Mandarin Oriental Hotel Group gives his insight into creating a worldwide spa brand and Dr Wolfgang Schobersberger, who has spent most of his working life tracking the constantly evolving spa and wellbeing sectors, reports on his latest research into the changing face of the spa customer.
Day two, and the emphasis changes to a day of 'reaching your profit potential'. With the focus on how spas and spa brands can make more money, The International Spa Convention welcomes Sue Shepherd, managing director of Dove Spa. In her seminar, Shepherd shows how you can align, re-brand and reposition your business to ensure a coherent strategy and a profitable spa. The environment features on Monday 3rd March, with Clare West, managing director Europe for Six Senses Spas, who is the first to develop an Eco Spa sector benchmark, sharing some fascinating material on sustainability and energy-saving strategies for spas.
The final day is dedicated to marketing and promotion and headed 'strategies for success'. The way a spa or brand is marketed is big business and the benefit of specialist PR and marketing teams can set your spa ahead of the competition. The Convention hears from Marketing people who have made a real difference to their brands, including Barbara Gavazzoli from (comfort zone), Elaine Fernard from Spatiality / Spa Strategy and Daniel Smith from ghd. Daniel Smith, Spa Division Director, gives his personal take on how ghd has become a global phenomenan in this arena which also includes a detailed discussion on the rise of E-commerce and internet marketing.
3 day Gold pass £440.63
Daily passes £229.13
To register visit http://www.professionalspaconference.com ,
T: 0845 056 8339 (UK only), +44 (0)207 554 5800 (international)
Professional Beauty 2007 had 39,522 visitors (ABC audited). Entry to Professional Beauty 2008 is free for those visitors who register in advance - tickets can be obtained by calling 0844 557 0998 or by pre-registering online at http://www.professionalbeauty.co.uk
Further information, imagery and press tickets are available from
MRA PR on 020 8540 1177
# # #