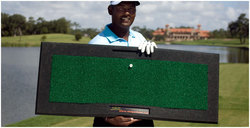 We were looking for an agency that understands customer segmentation, purchase drivers, and lead generation. In LBi Atlanta, we found just that agency
Atlanta, GA (PRWEB) February 12, 2008
National Golf Products, an Atlanta-based manufacturer of innovative golf products, has named LBi Atlanta as its interactive Agency of Record. The Golf Mat, with its patented technology is widely marketed and seen through television and interactive marketing advertisements. Endorsed and supported by professional golfer Vijay Singh, The Golf Mat is a revolutionary product that simulates real grass divots, while simultaneously reducing injury.
"We are thrilled to have been selected by National Golf Products. The company's products are innovative, and the management team is visionary. We are excited about helping them grow their brand, and increase sales" says Joe Schab, LBi Atlanta CEO and Managing Director. "Using our expertise in online video direct response advertising, we will drive traffic through an integrated online marketing strategy, and then help them qualify and close sales opportunities."
"We were looking for an agency that understands customer segmentation, purchase drivers, and lead generation. In LBi Atlanta, we found just that agency," says Jon Leven, CEO of National Golf Products. Our patented products will revolutionize golf practice, and with LBi Atlanta's strategic services we are poised for substantial market growth."
About LBi: LBi is the leading international full service digital agency, serving clients with interactive marketing and technology solutions. The company employs approximately 1,400 professionals in 30 locations across the world. Through interdisciplinary teams, LBi creates innovative multi-channel solutions for its corporate clients by uniquely combining strategy development and creative design with specific industry expertise and latest digital technology. LBi is honored to work with many of the largest brands in the world including Cox Enterprises, The Coca-Cola Company, The Home Depot, UPS, Eastman Kodak, MasterCard, Volvo, among others. For more information visit http://www.lbi.com/atlanta
About National Golf Products: Dedicated to providing golfers worldwide with superior, game-enhancing equipment, National Golf Products was founded in 2007 by Jon Leven, Joseph Switzer and Billy Evans. Drawing from extensive and successful entrepreneurial backgrounds, the group launched THE Golf Mat, a revolutionary new way for facilities and individuals to practice in a safer, more effective and efficient manner. A unique system endorsed by three-time major winner Vijay Singh, it creates the same sensation of "give" at impact as taking a divot off natural grass. This is accomplished via a patented polymer filament below fairway-length turf that produces the first "true grass" alternative by encouraging a proper "down and through" swing motion. For more information visit http://www.thegolfmat.net.
Contact: Lisa Harper, LBi
404.267.7600 / lisa.harper @ lbi.com
###