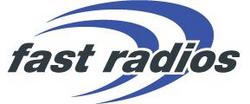 We are excited to offer our customers this new Four-Year Battery Guarantee on ICOM and Jobcom radios. The battery is a critical element of the two way radio and we just made it simpler and easier for our business customers
Naples, FL (PRWEB) February 12, 2008
Fast Radios (http://www.fastradios.com)], an industry leader in commercial two way radios, announces a new two way radio battery guarantee on all ICOM F-3021, F-4021 and Jobcom D-series two way radios. Along with the exclusive Fast Radios Four-Year Radio Warranty, these radios now include a Four-Year Battery Guarantee. This new Fast Radios exclusive offer is what has placed Fast Radios 'a cut above the rest' for business looking to two way radios for their communication needs.
"We are excited to offer our customers this new Four-Year Battery Guarantee on ICOM and Jobcom radios. The battery is a critical element of the two way radio and we just made it simpler and easier for our business customers," states Bill Richards, President of Fast Radios. "This guarantee joins our exclusive Four-Year Two Way Radio Warranty and our Free Trial on any commercial two way radio."
The New Four-Year Battery Guarantee:

Fast Radios now offers ICOM F-50, F-60, F-3021, F-4021 and Jobcom 2 way radios with a Battery Guarantee.
If the battery you purchase with these radios ever fails to hold a charge during the first four years you own the radio Fast Radios will replace it - free.
Other exclusive offers only at Fast Radios:
Free Trial On All Two Way Radios:
An excellent opportunity to test new 2 way radio equipment at a location with no obligation to make a purchase
Four-Year 2 Way Radio Warranty:
Extended Four-Year Radio Warranty on all commercial 2 way radios you purchase from Fast Radios
Fast Radios has earned the trust of their business customers by providing true long-term savings in two way radios for business - such as the new Four-Year Battery Guarantee. Simple, reliable and affordable two-way radio equipment with complete one-on-one customer service is why Fast Radios is a leader in the commercial two way radio business.
For more information on the Fast Radios Two Way Radio Battery Guarantee:
Visit:
ICOM F-3021 and F-4021 Two Way Radios
ICOM F-50 and F-60 Two Way Radios
Jobcom Two Way Radios
Contact: Manzie Lawfer, Sales Manager
Call: 800.691.3970
About Fast Radios:
Fast Radios, a leader in the two way radio industry offers the highest level of customer satisfaction, extended Four-year warranty on all commercial two way radios, Four-year battery guarantees, Free Trial and immediate shipping guarantees. In addition, every Fast Radios customer has their own account manager - a single point of contact - for all their business two way radio needs.
# # #