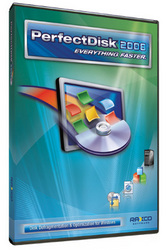 With the growing threat of security issues and the growing complexity of interoperability issues, the importance of certification has never been more important
Gaithersburg, MD (Vocus) February 12, 2008 –-
Raxco Software, the leader in disk defragmentation software, announced today that PerfectDisk® 2008 has achieved Windows Vista® and Windows Server® 2008 certification from Microsoft®. Microsoft's certification programs are designed to ensure that third-party software applications operating on Windows Vista and Windows Server 2008 meet specific stability, security, reliability, availability and compatibility requirements. No other disk defragmenter has achieved these certifications from Microsoft.
Microsoft designed its Windows Vista Quality Program to improve the end user experience with third-party software applications in four areas: security (e.g. prevention of malware), compatibility with Vista, installs and uninstalls, and reliability (e.g. hangs and crashes).
Microsoft's Windows Server 2008 certification program identifies hardware and software solutions that meet Microsoft standards for compatibility and best practices with the Windows Server 2008 operating system. Designed for line-of-business and mission-critical applications, the Certified for Windows Server 2008 logo indicates the application has been independently tested to meet the highest technical bar for stability, security, reliability, availability, Windows operating system fundamentals, and platform compatibility.
"With the growing threat of security issues and the growing complexity of interoperability issues, the importance of certification has never been more important," said Bob Hegel, Microsoft program manager at Raxco Software. "PerfectDisk has always been at the forefront with Microsoft certification. The new Vista and Windows Server 2008 certifications add to PerfectDisk's long pedigree which is unmatched by any other disk defragmenter."
About Raxco Software
Raxco Software has been helping large enterprises, small businesses, and consumers with their computer resource management needs for more than twenty-five years. Its PerfectDisk is Windows® Certified by Microsoft®, and optimized for Windows XP. The PerfectDisk line has a long award-winning history, most notably its perfect 5-star review from CNET Download, winner of the Windows IT Pro 2005 and 2006 Readers' Choice Awards for Defragmentation Utility and Storage Management Tool, Redmond Magazine's Best of the Best Award for 2005, and PC Magazine's Editors' Choice award for the past two years. In addition to its PerfectDisk line, Raxco also produces PC optimization software, including system recovery and disk repair products for Windows operating systems and HP's OpenVMS operating system. Raxco Software can be found on the Web at http://www.raxco.com.
Contacts:
Sherry Murray
Raxco Software, Inc
301-519-7836
###