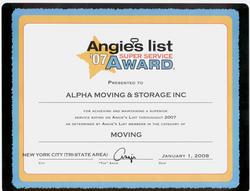 To help our members easily find these exceptional service companies, we've added Super Service Award logos to each of the winning company names on AngiesList.com. Our members tell us they love that additional bit of information
Jersey City, NJ (PRWEB) February 14, 2008
Alpha Moving & Storage, best known for its "Our promises are set in Stone" slogan, has been awarded the coveted 'Super Service' Award by Angie's List - a renowned web referral service. The award was granted for "Achieving and Maintaining a Superior Service Rating on Angie's List Throughout 2007, as determined by Angie's List Members in the Category of Moving". Fewer than five percent of the companies on Angie's List meet the eligibility requirements to be considered for the award. "Our Super Service Award winners are the cream of the crop when it comes to customer service," said Angie Hicks, founder of Angie's List. "To help our members easily find these exceptional service companies, we've added Super Service Award logos to each of the winning company names on AngiesList.com. Our members tell us they love that additional bit of information". This prestigious award follows numerous other recognitions, which Alpha has received in recent years.
"We are delighted to receive this award," said Steve A. Hadar, Founder and CEO of Alpha Moving & Storage. "In today's business environment, customer service means everything, it is the first and foremost item on our agenda, and we sincerely believe that good things simply follow," Hadar said.
Alpha is a Jersey City based moving & storage company, serving the NY/NJ Tri-State area. Strategically located near the Holland Tunnel, Alpha is licensed to provide local and long distance relocation services within the states of NY, NJ and to all points in the continental US. Alpha's unique focus on customer service has been instrumental in its success, and today, Alpha is widely recognized and referred by many of New-York's and New-Jersey's prominent real-estate related businesses, in both the residential and commercial relocation sector.
More about Alpha Moving & Storage:
In a highly competitive market with years worth of valuable experience, Alpha strives to deliver the very best In the business. With a fleet of late model trucks, a large crew of highly skilled moving professionals, and a clean & secured state-of-the art storage facilities, Alpha is a first class relocation company. The people at Alpha understand that a successful relocation experience begins with proper planning and is followed by utter professionalism and attention to the smallest of details. Alpha knows that moving can be an uncomfortable experience and vows to stop at nothing less then complete customer satisfaction.
About Angie's List
Angie's List is where consumers turn to get the real scoop on local contractors and companies in more than 280 different categories. Currently, more than 600,000 consumers across the U.S. rely on Angie's List to assist them in finding the right contractor or company for the work they need done. Members have unlimited access to the list via Internet or phone; receive the Angie's List magazine, which includes articles on home improvement and maintenance, consumer trends and scam alerts; and they can utilize the Angie's List complaint resolution service. Get more information and consumer tips at Angie's List.
For more information about Alpha Moving and Storage, or about this press release, visit Alpha's web site at http://www.alphamoving.com or contact Alpha directly at 1.800.605.2574.
Contact:
Steve A. Hadar/CEO
Alpha Moving & Storage
6 Senate Place
Jersey City, NJ
1.800.605.2574
###